Thunder and Rain
The Live Room@Caroline Social Club, Shipley.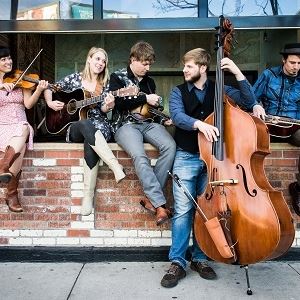 More information about Thunder and Rain tickets
An angelic voice soars over a blanket of acoustic sound, living somewhere in between folk, country, bluegrass, and pop. The voice, belonging to band leader and songwriter Erinn Peet Lukes, sings lyrics that speak honestly about matters of the heart. The songs, along with the highest level of musicianship from the rest of the band, have captured audiences young and old, internationally and across the USA.?
Since their first album, 'Holler Out' in 2014, the band has toured across the US, Canada, Ireland and the UK. They were finalists in the Rockygrass Band Competition in 2014 and named #1 Bluegrass band by the Denver Westword in 2016. In 2018, Peet Lukes became a New Folk Finalist at the Kerrville Folk Festival.
Fans love Peet Lukes strong, yet vulnerable way of conveying her songs. She's been compared to Natalie Maines, Linda Ronstadt, and Alison Krauss. Audiences also gravitate toward the newest additions to the band- Dylan McCarthy on mandolin and Allen Cooke on dobro. These Boulder natives have been gigging musicians since high school, but have since put down their electric guitars in favor of acoustic ones. They have risen to the top of their fields on their respective instruments, with Cooke winning the Rockygrass Dobro Championship in 2014 and McCarthy winning the Rockygrass Mandolin Championship in 2019.?
Thunder and Rain release their third album, Passing in the Night, January 2020. They have their 2nd UK tour scheduled for May 2020, as well?as other tours and festivals on the heels of their album release.