Tom Binns: The Psychic Comedium
Chorley Little Theatre, Chorley.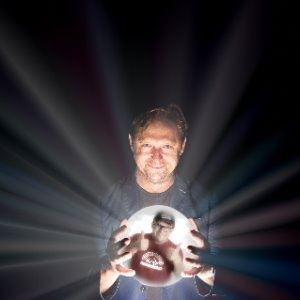 Seats allocated as orders come in. Wheelchair users and those with special requirement should call 01257 264632
This event is for 12 and over - No refunds will be issued for under 12s.
More information about Tom Binns: The Psychic Comedium tickets
8/10 Cats Do Countdown dictionary corner favourite Ivan Brackenbury, the hospital radio DJ supports Tom Binns: The Psychic Comedium.
Multi award-winning comedian Tom Binns has performed his Psychic Character Ian D Montfort to 5-star reviews around The World.
He's entertained and amazed sceptics and believers alike on his own BBC Radio 2 series 'Ian D Montfort is: Unbelievable' and his critically acclaimed BBC One series 'Hospital People' and in the smash hit British film 'Eaten By Lions'.
During this time Tom appears to have started to believe he has genuine psychic ability and now performs as The Psychic Comedium.
"I've discovered I have psychic abilities that are at least as strong as anyone who has ever claimed to be a psychic. If not stronger"
In his performances Tom clearly makes jaw-dropping revelations about his audience but is he gifted ? or is he deluded ? or is he just full of s h*t?
Whatever you decide his gift for comedy is undeniable and his psychic powers are unbelievable!
"Binns has either gone native or so deeply ironic that he's lost touch with reality. I can only assume he'd sell more tickets as a 'real' psychic. In this post-truth, end of days, era we are living in, why not? Best of luck to him." - Horizon