Tony Law: A Lost Show
Gilded Balloon Basement, Edinburgh.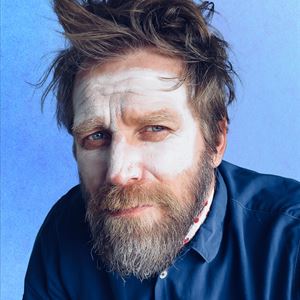 - The entrance to the Gilded Balloon Basement is on Rose Street Lane South.
- Accessibility: the GB Basement is accessed by 12 stairs down. For more information about accessibility head over to our Accessibility page
- Doors open one hour prior to show start time (including the bar and box office). So come on down early and grab a drink and seat!
- We have a lovely wee bar with a wide selection of drinks and snacks.
More information about Tony Law: A Lost Show tickets
A mind-changing, comedy-art, laugh-affirming experience you'll never forget. Expect accents, observations, shouting, clowning, shadows, shadow puppets, a space bear puppet, music, bad music, falling and white face paint. This show finds the vulnerability in us all.
Watch him and through laughter – rise, happier. You cry, with laugh. 'What was that!?' 'I loved that'. Then you smile to yourself. 'Tony, you grande dickhead, you making me thinking while you do 'up' voice shouting 'n' clownsing and then, somehow, through idiocy and your bones of funny – Tone, I know what you mean'.
Tony has appeared on Have I Got News For You, The Alternative Comedy Experience, 8 Out Of 10 Cats and Never Mind The Buzzcocks. His radio credits include Arts Club with Will Gompertz (5Live), Tony Law: 21st Century Adventurer, Tony Law's Surreal Guide To Surreal Comedy, Loose Ends and Infinite Monkey Cage.
"Takes post-modern stand-up to a dangerously funny new level" ???? The Guardian
"Chaos has rarely been so finely constructed and this much fun" ???? The Times