Trinity Folk Festival: Luke Jackson Trio
The Boileroom, Guildford.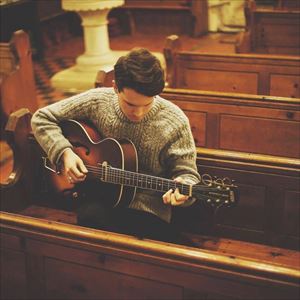 With support from Kitty Macfarlane and Downtown Roundabout
About Trinity Folk Festival:
TFF has been bringing the best folk, roots, and acoustic music to Guildford since
2013. The festival includes a mixture of leading national and local musicians across
three venues and this year the Friday night show will be held at the Boileroom
featuring Luke Jackson Trio, Kitty Macfarlane and Downtown Roundabout.
This event is for over 18s only - No refunds will be issued for under 18s.
More information about Trinity Folk Festival: Luke Jackson Trio tickets
Luke is a Singer-Songwriter from Canterbury, Kent, who in 2013 was nominated in the BBC Radio 2 Folk Awards for both the Horizon Award for Best Emerging Talent and The Young Folk Category. He was also winner of Fatea's "Male Artist of the Year 2014" and 2016.
Over the past few years he has steadily been developing a reputation for himself in the Folk & Roots circuits either through his solo shows, many festival appearances or when opening for such luminaries as Fairport Convention, Show of Hands, Steve Knightley, Martyn Joseph, Seth Lakeman, Karine Polwart, Oysterband, Paul Brady, Glen Tilbrook and Sarah Jarosz .
As well as playing solo, Luke also performs as a Duo or Trio. In addition to the UK, he regularly tours across Europe playing in France, Belgium, The Netherlands and Germany and in 2016 and 2017 visited the USA to play at the International Folk Alliance conference in Kansas. Luke has completed several joint headline tours with Grammy Award winning songwriter Amy Wadge, with Folk Award winning duo Greg Russel and Ciaran Algar and American singer-songwriter Rebecca Loebe.
His debut album 'More Than Boys', produced by the acclaimed Welsh Singer-Songwriter Martyn Joseph, was released in 2012 to great reviews, as was the follow up 'Fumes and Faith' in early 2014. In 2015 he released a 7 track EP with his trio, 'This Family Tree', which was described in a 5 star Maverick review as "Two words. Bloody brilliant" and it further reflected his development as both a writer and performer
November 2016 saw the release of Luke's 3rd full studio album, "Tall Tales and Rumours" to universal critical acclaim, which Maverick, in a 5 star review, described as "a brilliant, thoughtful album – Jackson shows talent beyond his years". Whilst Acoustic Magazine noted "Jackson has been compared to a young Richard Thompson and for once these are not empty words"
In February 2018 Luke put out his first live album 'Solo:Duo:Trio' which again has been enthusiastically received, with Mike Harding noting "That's got to be one of the most faultless live recordings ever in my opinion- he's a great songwriter with a great voice and boy can he sing the blues"
Luke is an ever present in the live music scene, gigging relentlessly all over, and he remains a prolific songwriter in demand across the United Kingdom and Europe.
Kitty Macfarlane
Kitty Macfarlane is a songwriter and guitarist from Somerset, whose music is rich
with visual imagery and written with an eco-eye. Kitty's highly anticipated debut
album Namer Of Clouds, released September 2018 and produced by Sam Kelly and
Jacob J Stoney, gathers inspiration from the sky to the seabed.
Kitty has toured with acclaimed folk duo Kathryn Roberts & Sean Lakeman, Blair
Dunlop, and Elephant Sessions. Her first EP Tide & Time received airplay on BBC
Radio 2 and 6 Music. In 2015 she was shortlisted for the BBC Radio 2 Young Folk
Award, and in 2016 she received project funding from the English Folk Dance and
Song Society. More recently Kitty has been awarded the Lynsey de Paul Prize for
female songwriters.
Downtown Roundabout
Downtown Roundabout are an energetic UK Americana band fused together with
elements of Country, Folk and Soul music. Their mission is to create a fun and
inclusive environment for audiences and listeners alike both Electric and
Acoustically. With high energy, catchy choruses, hard hitting harmonies and
questionable dance moves they performed a standout set at TFF2018 and we are
very glad to welcome them back in 2019.