Trojan Records 50th Anniversary Party
Dingwalls, Camden.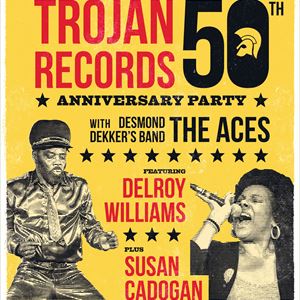 Age Restrictions: 14+ (UNDER 16S TO BE ACCOMPANIED BY AN ADULT)
14s - 16s must be accompanied by an adult. No refunds will be given for incorrectly booked tickets.
More information about Trojan Records 50th Anniversary Party tickets
**TROJAN RECORDS 5OTH ANNIVERSARY PARTY **
**DESMOND DEKKER'S BAND 'THE ACES'
FEATURING DELROY WILLIAMS**
**Delroy Williams**
Manager, MC and backing vocalist
for Prince Buster & Desmond Dekker. Also a
soul/reggae/ska singer in his own right during the 60's,
70's and 80's. The last 3 years has seen a demand for
Desmond's music to be played again. The Aces were
Desmond's Live and Studio band during the 80's, 90's
and 2000's until his sad departure from this world in
2010. The line up is still the same and has only 2 new
members that come from the world of reggae and ska
music and have a great passion for Desmond's music.
With the addition of female backing vocals Delroy &
The Aces bring back the sound of Desmond Dekker and
will be playing at more events in 2018.
A fantastic show was had at The Madness event 'House
Of Common' 2017 and was well received by the
audience with some wonderful complimentary
comments from many of the artists back stage.
Big thanks and blessings are given for all the support
we have been blessed with and to the returning fans of
Desmond Dekker & The Aces.
**SUSAN CADOGAN - JAMAICAN REGGAE ARTISTE**
Susan was born ALLISON ANNE CADOGAN in Kingston, Jamaica to Belizean father the Rev. Claude Cadogan and Jamaican mother, Lola Cadogan (nee Dujon), a classical soprano.
Coming from a musical and religious family, she began singing in the church as a teenager. Allison never had a thought of being a singer but in mid 1974, at the age of 22, she recorded her first single "Love my life" at The Black Ark studios in Kingston for producer, Jerry Lewis. She was then asked by studio owner Lee "Scratch" Perry to sing his reggae version of 'Hurt so good' and the rest is now reggae history.

In April of 1975 "Susan" (renamed by Lee Perry) shot to stardom when the single "Hurt so Good" raced up the BBC Charts in London peaking at #4. Arriving in London in April 1975, Susan made several appearances on the BBC Top of the Pops weekly television chart show. The follow-up single "Love me Baby" produced and written by Peter Waterman for Magnet Records peaked at #21 and then followed her now Collector's item LP "Susan Cadogan" produced by Perry and the LP "Doing it her way" produced by Waterman.
Susan was then produced by OB International (Owen Brown) in Jamaica and the hit singles "Piece of my heart" and "Tracks of my tears" saw her named Female Artiste of the year in 1981. Her duet with Jamaican singer Ruddy Thomas, "You know how to make me feel so good" produced by Hawkeye Records (London) was #1 for 8 weeks on the British Reggae Charts (named record of the year)and broke into the BBC charts on the Virgin label. She has recorded 9 CD's and numerous singles to date including many duets with Ruddy Thomas, Bunny"Rugs" Clarke, Glen Adams and Ken Boothe.
Through the years Susan has worked with several international bands and producers some of whom are The Mad Professor (Ariwa Records UK), The Slackers Band (Brooklyn, N.Y.), Creole Records (Bruce White), Crabs Corporation of Argentina for Record Kicks (Italy), Glen Adams (Brooklyn, N.Y.) and most recently Mitch Girio of King Kong Records in Canada. This latest EP "Take me Back", has been well received and named among the top releases of 2016 in Europe.
Recently in London for The Skamouth Festival and The famed "2-Tone Village" Christmas Eve show among others, Susan was interviewed by former producer Pete Waterman (Coventry BBC WM), Herdle White (BBC Leicester), Robert Elms (BBC Radio London) and Lauren Laverne (BBC6) all of whom believe her latest release is brilliant and worthy of acclaim.
Many years have passed but Susan still has her expressive, fine soprano voice and a deep love of her art evident in her new music and on her recent shows where her professionalism, dynamic stage presence and and natural aptitude are loved by all. She has been hailed by many as the "Queen of Lover's rock" but her recordings embody all facets of Jamaican music. Susan has appeared all over The UK, Europe, Argentina, Mexico, Hawaii, New York and many other U.S. states and in the Caribbean and continues through 42 eventful and successful years in the industry, to do what she loves and does best....recording and performing some of the greatest reggae music ever made.
SUSAN CADOGAN, hailed by many as having the "sexiest voice in reggae" remains one of Jamaica's finest exports to the International music scene.