TTW and NXI present The Copyrights
New Cross Inn, London.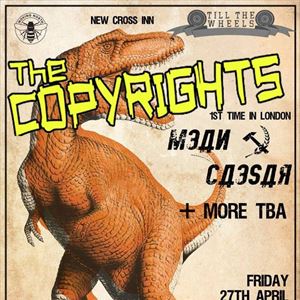 More information about TTW and NXI present The Copyrights tickets
1st time in London for The Copyrights.

Support from Mean Caesar plus more tba.

If you're gonna read anything in this bio, at least get these few facts straight: 1) The Copyrights are from a small college town in downstate Illinois called Carbondale, and are by far the biggest thing to come out of those cornfields as they have toured internationally multiple times; 2) They just released a 3-song EP on Fat Wreck Chords called, No Knocks, which is just a teaser for their upcoming LP, Report, due out on Red Scare in August; and 3) they're one of the best, smartest bands making buzzy, anthemic pop-punk in 2014.