Twisted Wheel
Ku Bar, Stockton On Tees.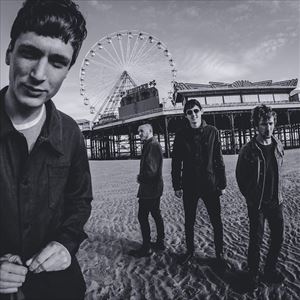 This event is for over 18s only - No refunds will be issued for under 18s.
More information about Twisted Wheel tickets
Ku Bar is Over 18 / ID May be required / Clubwear (No sportswear) / Management reserve rights to refuse entry
TWISTED WHEEL were the 20 year old feral rock'n'rollers who tore open the last Oasis shows in 2009 while playing many sell-out headline shows for two years straight. Retreating to lick their wounds and terrorise the neighbours, the band now return a decade later with their irreverent disregard for commercial domestication, rolling out a relentless 40-date Snakes and Ladders tour to announce their arrival.
Crowds, starved of the rigour of real rock-n-roll meat 'n' bones, have been storming the shows, all but four selling out. As an appetiser for the new album later this year, Twisted Wheel released the four track E.P. 'Jonny Guitar'
The new songs have already been included in some sets. 'The eponymous elegy 'Jonny Guitar' details lead singer Jonny Brown's final last breath as an addict, pawning his guitars and hearing the shouldawouldacoulda declare his reputation. The other tracks, 'Rebel', 'Keep It Up Boy' and 'The Convoy Man' (a one minute tribute to a cooing pigeon) all demonstrate TW's uncanny talent to maximise the elusive eternity in the ordinary and Brown's ability to create anthems and palaces from the trash of life. What Bowie would sound like in a bin bag with a unicorn wearing a football shirt. No autotune in sight; these are songs you feel, see and live.
Jonny reformed the band in January 2018, pulling back Adam Clarke from the original line up, Richard Allsopp and Shadow Palace's Harry Levin. Since then, they have been rehearsing, recording and relentlessly touring. The EP is both a thank you for the fans that have welcomed them back, stayed faithful over the past decade and a teaser for the monster incipient wasp of an album appearing later this year.
TWISTED WHEELS' S new EP ?Jonny Guitar' charted at a Number 1 chart position on Friday 29th June in the official UK physical charts - twenty minutes before the band went on stage supporting Liam Gallagher at Finsbury Park