UPGEFUKT FEST 2018
The Windmill Brixton, London.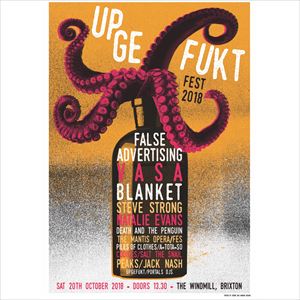 Live music from 14:00.
Advance tickets available from £9.50 plus booking fee; £12 on the door
This event is for over 18s only - No refunds will be issued for under 18s.
More information about UPGEFUKT FEST 2018 tickets
South London's brand new celebration of leftfield alternative, math & pop featuring...
False Advertising Gritty, melodic Manchester noise-pop. Fresh from a performance at Robert Smith's Meltdown Festival, and having already supported bands like Everything Everything and Idles, the trio have been causing a stir with their sweet snarling hooks and catchy fuzzed-up guitars. https://falseadvertising.bandcamp.com/
Vasa Instrumental heavyweights from Glasgow. Since forming in October 2011, the quartet have seen a rush of support from the likes of The Independent, Clash Magazine and PROG Magazine. The band have completed numerous UK and European tours and have played with acts such as Russian Circles, This Will Destroy You, TTNG and Black Peaks. https://www.youtube.com/watch?v=uTG9lGfzmVQ
Steve Strong A one man arsenal of beats, tapped guitar and lush, textural melodies. His music is as sparse as it is grandiose, as skeletal as it is layered, equal parts shimmering and pulsing... https://www.youtube.com/watch?v=Mra1lxARhew
Natalie Evans A London based multi-instrumentalist and singer-songwriter. Fusing her virtuosic talent on guitar, harp and piano with finely tuned songwriting sensibilities, her songs glow with a rare self-contained grace, as she wraps her minimalist and deceptively simple lyrical lines in winning hooks and harmonies. https://natalieevansmusic.bandcamp.com
Death and the Penguin South London locals with a unique brand of off-kilter alternative tinged with math, jazz and electronica. 2018 is a big year for the band, with an extensive UK tour already under their belt, and the release of their debut album and an ArcTanGent Festival performance just on the horizon... https://datpmusic.bandcamp.com/
Blanket Blackpool cinematic-rock band, touted by the likes of Kerrang! & BBC Radio 1 Rock Show, who released their stunning debut album "How To Let Go" via Music For Nations (Sony) in May 2018. https://open.spotify.com/album/0L5PmcSPtSQqsds76TAXKA?fo=1
A-Tota-So http://a-tota-so.bandcamp.com
The Mantis Opera https://mantisopera.bandcamp.com
FES https://www.youtube.com/watch?v=nbmKpZxP97U
Piles Of Clothes https://www.pilesofclothes.bandcamp.com/
Salt the Snail https://youtu.be/y1YJqaPUYmk
Codices https://codices.bandcamp.com/
Jack Nash https://jacknash.bandcamp.com/
Jamws https://open.spotify.com/track/2eyvmwfiSVQR7IjBpvl3SV