Upside Down Cabaret Tickets
The Live Rooms, Chester.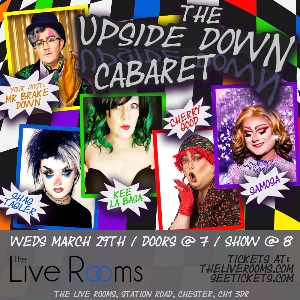 Please be advised that this show is recommend for audiences aged 16+ due to adult humour and partial nudity. Visitors under the age of 18 will need to be accompanied by a companion of at least 18.


More information about Upside Down Cabaret tickets
The Upside Down Cabaret
A monthly variety show right in the heart of Chester
As its title suggests, the Upside Down Cabaret offers you a show where things are never quite as they seem, and performers from many weird and wonderful walks of life find their moment to shine. From outrageously funny drag performances to dancing divas, comedy, burlesque, live singing, cross-cultural and multimedia performances, there's something different every time you walk through these doors…
This LGBTQIA+-led event promotes queer artistry of all kinds, with performers from neurodivergent, disabled and marginalised backgrounds as well as showcasing the best in new and alternative drag, pop culture and nerdlesque, parody and satire, modern Bollywood and beyond. Hosted by local drag king Mr Brake Down, the show promises thrills, laughter and quality entertainment in an inclusive joyous space. Come turn your world Upside Down for the night!
March Lineup:
Alongside live music and comedy from your resident host Mr Brake Down, March's cabaret promises a variety of show-stopping numbers and big laughs. Belfast's own dancing diva of drag Shag Tagler will delight audiences with her hypnotic moves and enticing persona. It's time to meet your next guilty pleasure as the comedy gold and live vocals of Wrexham drag queen Miss Cherry Good will have you laughing your socks off with her unique take on life, her comic escapades and her love of all things X-rated. Arrive early and grab the front row if you're bold enough, and you'll be treated to a close up gander at the nerdy pop culture delights of burlesque dancer Miss Kee la Basa as she brings to life some familiar faces from film and videogame culture. Finally, we are proud to present the winner of Viva La Diva's Dragtastic 2023, the incredible Samosa, whose genderbending drag artistry brings Bollywood to life in a way you've never seen before. A night of glitz, glam and giggles awaits you, so grab your tickets without delay!