UpYerRonson 'End of Summer Terrace Party'
Mint Warehouse, Leeds.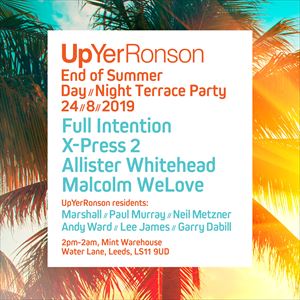 UpYerRonson are back with their biggest lineup to date, featuring not one but two legendary duo's of the UK house scene making their Ronson debuts!
More information about UpYerRonson 'End of Summer Terrace Party' tickets
UpYerRonson are back to end the summer (if you can call it that) with their infamous 'End of Summer Day & Night Terrace Party' at Mint Warehouse, Leeds.
If you haven't been to one of their parties yet then you are seriously missing out! The atmosphere created from the Ronson family is something you have to experience to believe. They are the friendliest bunch you will find anywhere and many special friendships and relationships have been forged on that outdoor terrace dancefloor.
This magical atmosphere is partly down to the amazing DJs that help create the feel good vibes that resonate through their music.
And boy have they pulled out all the stops to give you a lineup of true house music royalty!
Guest DJs:
X-Press 2 // Full Intention // Allister Whitehead // Malcolm WeLove
Suported by the UpYerRonson Residents:
Marshall // Paul Murray // Neil Metzner // Andy Ward // Lee James // Garry Dabill
PLEASE READ: If you go to one event this August bank holiday, then you should seriously think about getting your tickets for this one because parties like this full of beautiful, likeminded souls who don't care about being a VIP or demand table service and leave their troubles at the door to have a proper blowout are a rare find these days.