VINTAGE ROCK FEST
Le Ferrailleur, Nantes.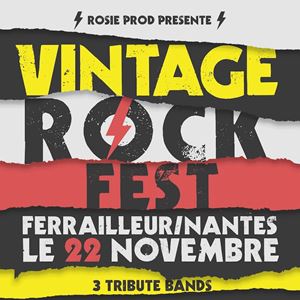 More information about VINTAGE ROCK FEST tickets
VINTAGE ROCK FEST
Concert 100% TRIBUTE avec BACK TO THE POLICE (The Police) - TELECAB (Téléphone) - DYNAMO (AC/DC)
Ouverture des portes 20h00, concert à 20h30 !!!
BACK TO THE POLICE : recréé sur scène la magie des concerts du célèbre trio Anglais qui a révélé Sting à la fin des années 70 : THE POLICE. Le même son, la même énergie et une interprétation sans compromis. Le public ne s'y trompe pas, BACK TO THE POLICE surprend de fidélité.
TELECAB : c'est la rencontre de quatre fans de TELEPHONE, rendant hommage à l'un des plus grand groupes de Rock Français. Les plus grands succès du groupe sont réinterprétés mais aussi des morceaux plus confidentiels que les fans apprécieront. Des guitares électriques sur-vitaminées sur une rythmique imparable, un vrai moment de pur Rock'n'Roll.
DYNAMO : reproduit le rock n'roll et la hargne du mythique groupe australien AC/DC qui a traversé les générations depuis près d'un demi-siècle. Leur répertoire est exclusivement celui du premier chanteur Bon Scott aux inspirations boogie / blues. Ils mettent l'accent sur l'énergie scénique et une esthétique sonore et vocale les plus fidèles possibles au son d'époque !!!