Viva Spirit Of Christmas Spectacular
VIVA Blackpool, Blackpool.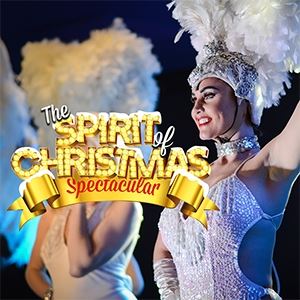 Timings
Doors Open: 12.00pm (Matinees) 6:30pm (Evenings)
Show Starts Approx: 2:00pm (Matinees) 7:30pm (Evenings)
Running Time: Approx : 2 Hours, 45 Minutes (including interval).
Curtain Down Approx: 5:00pm (Matinees) 10:30pm (Evenings).
Cast Meet & Greet: 5:05pm until 5:35pm(Matinees) 10:35pm until 10:55pm (Evenings).
Coach Pick Up: 5:30pm (Matinees) 11:00pm (Evenings).
More information about Viva Spirit Of Christmas Spectacular tickets
Join us for this dazzling new show and experience a Christmas show in Blackpool like no other!
Viva is transformed into a winter wonderland full of charm and surprise. Our talented cast of singers, dancers and musicians, will transport you to those feel-good Christmases gone by in a wave of nostalgia and joy and afternoon filled with Christmas songs and carols.
Take your reserved seats, enjoy superb service to your table with a wide selection of drinks and food options to choose from – all topped off with the very best in entertainment!