Viva Suecia \ \ \ Mallorca Live Nights
Es Gremi, Palma de Mallorca.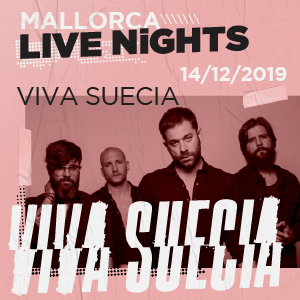 Some or all of the items for this event require you to enter a promotional code
Please enter your details below to buy tickets.
More information about Viva Suecia \ \ \ Mallorca Live Nights tickets
Entradas: 22€ anticipada (+ gastos de gestión) / 26€ taquilla
¡Vive los mejores conciertos gracias al Mallorca Live Festival! Si te quedaste con ganas de más y estás contando los días para que llegue mayo, no te pierdas las Mallorca Live Nights: una oportunidad única para disfrutar de los mejores directos en la mejor sala de conciertos de Palma.
Viva Suecia regresa a la isla para presentarnos su nuevo disco, "El Milagro", el 14 de diciembre en Es Gremi. Como dicen ellos mismos "el Milagro es a veces una broma recurrente y otras una sensación constante de gratitud, porque somos cuatro tipos completamente corrientes, provincianos (y a mucha honra), que llevan una vida excepcional y rodeados de gente increíble. Nunca pensamos que esto nos podría pasar, algunos ni nos atrevimos a soñarlo."
La banda es, sin lugar a dudas, uno de los grupos que en menos tiempo se ha situado en lo más alto del panorama musical. Desde la publicación de su primer disco, "La Fuerza Mayor" en 2016, han recibido el reconocimiento del público y de la crítica, así como merecidos premios como el de Mejor Canción en los Premios MIN de 2016 por "Bien por tí" o el Premio MTV a la Mejor Banda Española en 2018 tras publicar su segundo disco "Otros Principios Fundamentales" (2017).
Si ya tienes tu abono para el Mallorca Live Festival 2020, puedes conseguir tu entrada para Viva Suecia con un 10% de descuento. Para ello solo tienes que introducir el localizador de tu abono quitando el símbolo del dólar ($) del principio en la casilla de código promocional y se abrirá un nuevo tipo de ticket con un 10% de descuento. Ten en cuenta que esta promoción está limitada a una compra por abono y que solo estará activa a partir del día siguiente de haber comprado el abono.