Vivaldi's Four Seasons at Christmas Tickets
St Giles Cathedral, Edinburgh.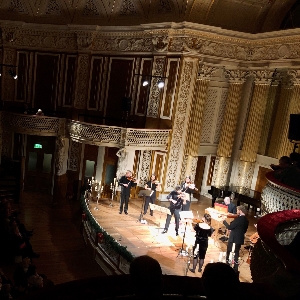 More information about Vivaldi's Four Seasons at Christmas tickets
On Wednesday 15th December 2021 at 7:30pm, in the heart of Edinburgh, the walls of St Giles Cathedral will resound to the music of Vivaldi, Corelli and Mozart, performed by the Piccadilly Sinfonietta.

"Stunning" Classic FM

Programme

Pachelbel - Canon in D
Bach - Jesu Joy
Corelli – Christmas Concerto
Mozart Piano concerto in C maj, K467
INTERVAL
Vivaldi - The Four Seasons

When the going gets tough in the run-up to Christmas and you've had about as much seasonal music as you can take, with choirs in every available cathedral, church and hall - get yourself over to St Giles! This is the moment to put down your last-minute Christmas shopping, gather your thoughts, and renew your emotional energy.

The Piccadilly Sinfonietta is one of the UK's most exciting young ensembles and performs a selection of well-loved classics including the seasonal Christmas Concerto by Corelli and Vivaldi's exquisite Four Seasons.

The concert features breathtaking feats of virtuosity from the Violinist sensation, Liam Lynch, and the features the virtuoso concert pianist Warren Mailley-Smith in performance of Mozart's sublime Piano Concerto No. 21 in C major.

The award-winning concert pianist and a favourite performer for the British Royal Family recently became the first british pianist to perform Chopin's complete works from memory. An exceptional talent and a self-deprecating sense of humour, combined with his formidable technical skill and mature musicality, makes him a favourite with audiences and venue staff alike

So why not treat yourself to a Christmas Special on and join us for an evening to remember of uplifting music at St Giles Cathedral, performed by the sensational Piccadilly Sinfonietta.