Vodafone Paredes De Coura 2021
Praia Fluvial do Taboao, Paredes de Coura.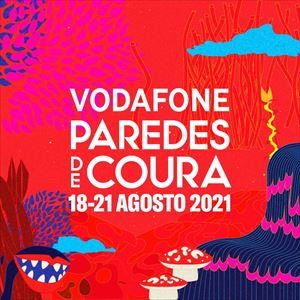 This event is for 6 and over - No refunds will be issued for under 6s.
Some or all of the items for this event require you to enter a promotional code.
Please enter your details below to buy tickets.
---
More information about Vodafone Paredes De Coura 2021 tickets
TROCA DE PASSES GERAIS 2020 PARA 2021

Todos os bilhetes adquiridos para o Vodafone Paredes de Coura 2020 são válidos para a edição de 2021. Para isso, é obrigatório efectuar a troca do bilhete do Vodafone Paredes de Coura 2020 por um bilhete válido para a edição de 2021. Esta troca deverá ser feita no ponto de venda onde foi adquirido, a partir do dia 15 de Julho. A troca está garantida até ao dia 31 de Março de 2021.
REEMBOLSOS

Para aqueles que, infelizmente, não puderem comparecer nas novas datas, podem pedir o reembolso do valor do bilhete adquirido, directamente no ponto de venda, entre os dias 1 e 15 de Setembro de 2021. O pagamento dos reembolsos acontecerá depois, entre os dias 16 e 30 de Setembro 2021.

Para que o reembolso seja efectuado o bilhete não pode ser trocado para a edição de 2021.
VODAFONE PAREDES DE COURA 2021

Depois de um atípico ano em que pela primeira vez, desde 1993, as margens do Rio Coura não receberão o som de novas promessas musicais, nem os nomes mais consagrados da música mundial, em 2021, o Vodafone Paredes de Coura prepara-se para mais uma histórica edição. Pixies, Jarvis Cocker e IDLES são algumas das primeiras confirmações.

Em 2021, o anfiteatro natural da música acolhe alguns dos mais emblemáticos regressos, como é o caso dos míticos Pixies, que o público anseia desde o seu histórico concerto de 2005; o antigo frontman dos Pulp, que desta vez irá apresentar o seu mais recente espetáculo, Jarvis Cocker presents JARV IS..., e o punk gritante dos britânicos IDLES.

Juntamente com a visão selvagem e descontrolada do universo musical apresentada por Tommy Cash, a nova onda do hip-hop surge encabeçada pela irreverência de Princess Nokia e Slowthai. Os inovadores BadBadNotGood, com o seu soul-jazz dos anos de 1970, misturado com hip-hop alternativo e eletrónica experimental, irão concorrer com as íntimas composições de lo-fi dos músicos em ascensão Alex G e Beabadoobee.

Também a marcar uma forte presença da vigésima oitava edição está o rock, misturado entre o folk de Woods, as sonoridades singulares de Viagra Boys e as cruas e genuínas versões dos Squid.

As frequências do techno e dance music ficarão preenchidas com os mestres Floating Points (live), Mall Grab e Haai.
PROMOTOR: Ritmos