W.H. Lung Tickets
Cobalt Studios, Newcastle Upon Tyne.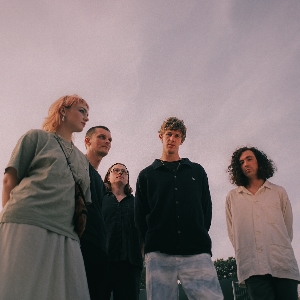 This event is for 18 and over - No refunds will be issued for under 18s.
More information about W.H. Lung tickets
• More wows from Wandering Oak
here
•
"We were raring to go," says W. H. Lung's Tom Sharkett of the band's desire to keep the momentum going after the huge success of their debut album 2019's Incidental Music - a vivacious concoction of krautrock, synth pop and infectious grooves. However, it quickly became apparent that a repeat performance was of no interest to the band. "We were 100% sure on it not being Incidental Music part 2."
The resultant 'Vanities' is a bold electronic leap forward into the dance music they love. A record that is direct, punchy and potent – an ode to the dance floor that they had missed over the last year or so. Singer Joe Evans explains. "We wanted to move away from easing people in and grab them by the heart straight away. I reflected on how we played live shows and romanticised about launching onto the stage in a bundle of energy and starting the party, no messing. The directness comes from making music more intuitively, and more from a place of fun. We were writing music that affirmed how much we missed dancing in sweaty rooms, enjoying the company of a collection of beautiful friendly strangers."
Perhaps most remarkable thing about 'Vanities' – aside from the unflinching new sonic leaps it takes – is that the band have taken a dormant year void of live experiences, sweaty clubs, or anything resembling fun times, and have made an album that makes that world feel palpable – that you can crawl inside it.
"Lockdown gave me the time to pour work into myself and out came this wonderful album," reflects Joe. "It was strange at first and I missed seeing my mates and having a laugh and dancing but this album is a direct reflection of creative flow brought on by the space given to us."
'Vanities' is a very rare beast of a record: an album created in solitude that feels bursting with vitality and the love, promise and transcendence of shared dance floor experiences. Just in time for when we crave those the most.


"Idiosyncratic yet Euphoric Electronic Pop" - Uncut

https://www.whlungmusic.com/