Warrington-Runcorn New Town Development Plan Tickets
The Yard, Manchester.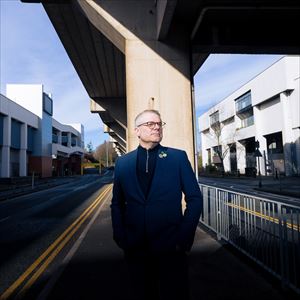 Music till approx: 10.15 / bar till 11.00.
More information about Warrington-Runcorn New Town Development Plan tickets
Gordon Chapman-Fox works under the name Warrington-Runcorn New Town Development Plan (WRNTDP) and produces wonderful propulsive, cinematic electronica which has a musical, conceptual and aesthetic setting in the mid 1970s to early 1980s and has made a
great impact since his debut in 2020.

Gordon has released four albums to date on independent label Castles in Space. His latest
record, The Nation's Most Central Location has proved his most successful, charting at
number 6 in the independent album chart.

Since performing at End Of The Road in 2022, Gordon has begun a definite move towards
the mainstream consciousness, with his appearance there being noted in the Financial Times' review of the festival.

His work is regularly played on the BBC and he was asked to contribute to Stuart Maconie's Freak Zone special of hauntology last year. He was included in Shindig
Magazine's "ones to watch in 2023" feature, where they said "The richness of his visionary
music is becoming progressively more enticing. A must for 2023".

The campaign for this new album has seen major features in Electronic Sound magazine and The Quietus. The album was also given 8/10 in a review/interview piece in Uncut.

What's difficult to convey is how much these records have resonated with so many cross
sections of the public. From electronica fans, to town planners, architects and academics,
current and ex-new town dwellers, futurists and nostalgia freaks, the reach and affection for this music has been quite a revelation.

In an adept development, the work has become more overtly politicised as Gordon reflects and refracts the broken promises made over generations to those in the North of England. Brought into sharp relief with the latest levelling up debacle, although of the past, the music couldn't be more current. It's emotional and moving and it connects deeply with many people.

Field Lines Cartographer (Mark Burford) produces music out of Lancaster where there is a wealth of electronic talent.

"Atmospheric, sometimes dark, occasionally bucolic soundscapes. "shimmering... unsettling" -The Wire

"The sound of big, strange worlds"-Electronic Sound magazine.

Antonymes (Ian Hazeldine) makes music at the edge of, and deep inside, and from above North Wales.

For this evening Ian will show a specially made short film made around a (failed?) Brutalist structure in North Wales.