Wedding Invitations design & print education class Billetter
The Jazz Cafe, Tyne And Wear.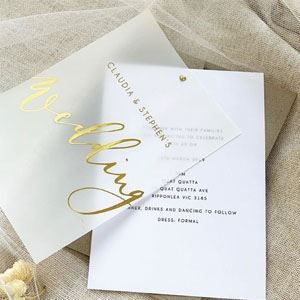 Flere informationer om Wedding Invitations design & print education class-billetter
Due to coronavirus and travel restrictions, we have had to postpone this event. The dates have been updated. Thanks for your understanding.
Get all the latest inside knowledge on wedding invitations that sell online! Paperlust creative director Shab Mogadam and co-founder James Boston and will be discussing all the latest wedding stationery design trends and what's new in the specialised printing world.
James & Shab will be running attendees through the entire process for creating different types of invitations including digitally printed, white ink, foil pressed designs and letterpress.
This masterclass will educate you on all things print; including preparation of files for different speciality printing methods, typography & fonts, and file structuring.
The masterclass will also cover current design trends including floral, classic and modern trends, as well as rustic, Indian and vintage styles.
The Paperlust team will give information how to design the perfect wedding invites using different print types, premium paper stocks and accessories as well as tips and tricks for making the perfect custom wedding invitations and save the date cards using Adobe's Illustrator software. Shab will also conduct live reviews of your designs.
This class for a graphic designer who has a creative background, a basic understanding of Adobe Illustrator, but not necessarily a print design background.
James Boston is the co-founder of Paperlust and has over a decade of experience in design and print. He travels to major global design and trend fairs and will present an overview of global and regional trends in wedding stationery for the 2019/20 season.
Cost to attend includes wine and cheese on the night.
https://paperlust.co/wedding-invitations