A VOID + Weekend Recovery - Ltd Capacity Show
The Black Heart, Camden, London.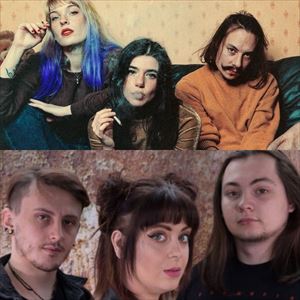 Friends, due to the gracious generosity of the supporters of The Black Heart we have now hit our our crowdfunding target, which takes us a step further towards avoiding immediate closure. If you'd like to continue to support us though - to help secure The Black Heart's existence for the future - then please click on one of the donation buttons below along with your ticket purchase. Many thanks!
Denne begivenhed er kun for personer på over 18 år - Der er ingen refusion for personer på under 18 år.
Flere informationer om A VOID + Weekend Recovery - Ltd Capacity Show-billetter
VENUE DETAILS:
- We've had a bit of a make over in order to facilitate shows here at The Black Heart within government guidelines.. We now have seats built in to the venue, split into blocks of 2, 3 and 4 people.




TICKET DETAILS:
- Tickets are sold in blocks of 2, 3 or 4 only.
Unfortunately there are no single tickets avail.
First in = best dressed, i.e. you can select your group of seats on arrival, in accordance with your ticket.

- Please note current government guidelines regarding local tier related restrictions on the people that m each group should be adhered to when purchasing tickets



SHOWDAY DETAILS:
- Venue doors will be open from 30mins before the first band plays, but with your ticket you also have entry to the bar before the show. Unfortunately due to movement within the building, if you arrive whilst a band is playing, you may be asked to wait outside until the next performance break.




- During the show you be required to stay seated, and are asked to keep in mind the safety of those around you by being considerate of personal space.