Wildwood Kin
Brudenell Social Club, Leeds.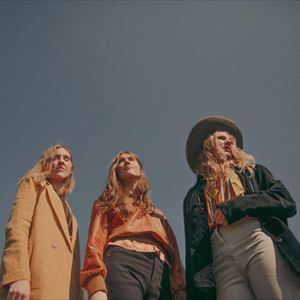 More information about Wildwood Kin tickets
The first thing that strikes you about the second album by Wildwood Kin, self-titled because it captures the band's artistic vision so completely, is just how natural it sounds. The voices of three young women harmonise effortlessly, there are shades of Simon & Garfunkel,Rumours-era Fleetwood Mac and the churchy cadences of the first Fleet Foxes album in the beautifully gentle folk rock melodies, and lyrics address profound themes like love, loss and spirituality in an unforced fashion. But above all, there is a spirit to the record that is as wild and free as the West Country moors Emillie Key, her younger sister Beth, and their cousin Meghann Loney grew up on.
"Both of our mums play instruments and sing, someone was always on the piano, and we spent childhood car journeys harmonising on the back seat," says 24-year-old guitarist Emillie on how this family group, who emerged from Devon to have a surprise hit in 2017 with debut album Turning Tides, found their sound. "There was a lot of Cat Stevens, Joni Mitchell, Tracey Chapman and Stevie Wonder in the house. It was a very musical family."
It was also a forward-thinking, spiritually open family; something reflected in the mysterious quality of the album's epic openerHeaded For The Water. "We're not a Christian band, but that background does inform us," says Meghan, 25, Wildwood Kin's drummer and the most outspoken of the three. "Our first performances were in church settings, and I'm not sure if we would have had the confidence to get up in pubs and clubs if we hadn't started in that safe family environment where everybody is nice to you." Beth, the quietest and youngest at 22, who plays bouzouki, adds: "We want to give an uplifting message and make a space for positivityand peace. Music is a healing thing, after all."
The journey began when Beth was finishing her GCSEs, Emillie was studying for A levels and Meg was meant to be on a gap year, but her visas for a foreign internship had not come through and she was at a loose end. Finding the process of applying for and deciding on university courses all too stressful, Emillie suggested they take a year out to travel a bit, try out singing together in public, and generally have fun. They cut their teeth with open mic spots at an 800-year-old pub with a thatched roof called the Church House Inn, in the tiny Devon village of Stokeinteignhead, where Emilie shook a tambourine, Meg banged a cojonand they were all so nervous that they had to do the whole thing sitting down. Nonetheless, the reaction was encouraging enough for them to decide to forego university and make a go of it as a group.
"It was the most tame rebellion of all time: singing in harmony," says Meg. "We formed a band as a way of dealing with the crisis of leaving school and facing the pressure of uni."
"We had been revising for exams, trying to remember information we didn't care about, and we needed a creative outlet," says Emillie. "We all found ourselves asking the same question: should you go to university for the sake of it? But as soon as we started playing gigs, we saw the way people were connecting with the songs. It felt special.
"Wildwood Kin's collaborative approach means one of the three will have the bare bones of a song, she will bring it to the other two, and they will work up the instrumental and harmony arrangements together. Unlike in most bands there is no leader or principal songwriter, which is why the process takes so long. "Perhaps because we're family we don't want to bulldoze each other," says Meg. "There is a lot of refining before the song gets to a place that everyone is happy with.
"There was also an extra element on the album, which is produced by Ian Grimble (Bear's Den, Catfish & The Bottlemen, Viola Beach Daughter): co-writers. Over sessions in Los Angeles, Nashville and Oxfordshire, Meg, Emillie and Beth dealt with the strange situation of meeting a complete stranger and pouring out to them their innermost thoughts in song.
"It is like a blind date," says Emillie. "You go in with nothing, you don't know the person, and if you're lucky you come out with something you love."Among the successful blind dates were Gabrielle Aplin forWake Up Sleeper, Angelo Petraglia (Taylor Swift, Lissie, the Kings of Leon) forAll On Me, and Alex Davies (Sigrid, Birdy, Kodaline) for Signals.
The co-writing sessions were less about shoehorning Wildwood Kin into ill-fitting pop shoes, more about bringing out what was already there. "We are the ones who will have to sing these songs for the next ten years," says Beth. "If they don't represent us or fit with the message we want to give out, we can't do it."
Most memorable of all was a session with Ed Harcourt in Oxford, which led to the beautifully sombre, Fleetwood Mac-like folk rock balladNever Alone. Musicians talking about mental health has become a modern cliché, but for Wildwood Kin the subject is deeply personal. Suffering from severe depression, Meg's brother killed himself.Never Aloneis intended as a message to anyone feeling as isolated as he did.
"Ed Harcourt is like a mad scientist of rock'n'roll," says Meg, on how the tragedy of a suicide became the inspiration for a song radiating with positivity. "He has this little Oxfordshire cabin filled with neon lights, and because he's so raw and heart-on-sleeve it wasn't long before we were talking about shared experiences of mental health. We played some riffs and sang harmonies that had been knocking about for years and asked ourselves: how does this make us feel? It all came out from there.Never Aloneis about walking and loving someone through a dark place. We knew it had to be honest and hard hitting, but uplifting too."
"It's about banishing loneliness," says Emillie. "We want people to feel encouraged by it."