William Shatner And Star Trek Ii:The Wrath Of Khan
Usher Hall, Edinburgh.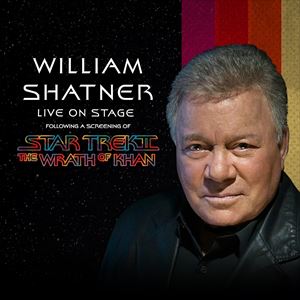 12+ only. 12s to 15s must be accompanied by an adult. No refunds will be given for incorrectly booked tickets.
More information about William Shatner And Star Trek Ii:The Wrath Of Khan tickets
Star Trek: Wrath of Khan is a BBFC '12' category film.
12A/12 - Suitable for 12 years and over
Films classified 12A and video works classified 12 contain material that is not generally suitable for children aged under 12. No one younger than 12 may see a 12A film in a cinema unless accompanied by an adult. Adults planning to take a child under 12 to view a 12A film should consider whether the film is suitable for that child. To help them decide, we recommend that they check the Ratings info for that film in advance. No one younger than 12 may rent or buy a 12 rated video work.


Age restrictions for this event: Over 12s only. Under 16s must be accompanied by an adult over 18.


Set your phasers to stun! Prepare to be beamed up for an unforgettable night with William Shatner, live on stage.

In this unique evening, you'll enjoy a screening of the classic film Star Trek II: The Wrath of Khan on the big screen. Following the movie, one of Hollywood's most recognisable figures, William Shatner, will take to the stage to share fascinating and humorous behind-the-scenes stories from portraying the original Captain James T. Kirk in the Star Trek television series and movies, as well as his career spanning over 50 years as an award-winning actor, producer, director and writer.

Fans will also have a chance to ask William their question during the audience-led Q&A. A limited number of VIP tickets will be available, which include a post-show photo op with William Shatner.