WinterFolk: O'Hooley & Tidow
The Live Room@Caroline Social Club, Shipley.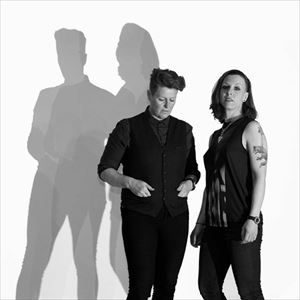 More information about WinterFolk: O'Hooley & Tidow tickets
BBC RADIO 2 FOLK AWARDS 2018 'BEST DUO' NOMINEES
'Exceptional songwriters' * * * * * The Guardian
'I have just listened to your track, Beryl, with tears in my eyes! It's beautiful and brilliant.' Maxine Peake
With a personal invite from Billy Bragg to play Glastonbury, sessions on 6 Music and Radio 2, five star reviews and a feature in The Guardian, the songwriting, voice and piano partnership of Belinda O'Hooley and Heidi Tidow is regarded as 'One of British folk music's mightiest combinations' (MOJO).
Belinda and Heidi's boundless songwriting has been described by The Guardian as 'exceptional' and The Independent as 'defiant, robust, northern, poetical, political folk music for the times we live in.' From an emotionally charged song about an elephant orphanage in Nairobi, to a joyous celebration of the Leeds cycling champion Beryl Burton, they explore, consider and connect subjects and stories in a distinctive, inventive and memorable way.
Having the originality and skill to invite comparison with the most celebrated harmony duos, from early Simon and Garfunkel to the iconic Kate and Anna McGarrigle, 6 Music's Tom Robinson says 'They sing together in the way families do. Normally, you only get that closeness in the voices with family bands like The Coppers or The Watersons.'
A MOJO MAGAZINE TOP 10 FOLK ALBUM
'England's answer to the McGarrigles.' * * * * * The Guardian
'Brave, beautiful and full of love.' Martin Simpson
'Insightful, determinedly left-field angles on the human experience.' * * * * MOJO Folk Album of the Month
'Have Belinda and Heidi done it again? Certainly.' * * * * * R2
'Dense, complex, beautifully performed.' * * * * Songlines