Wire
Brudenell Social Club, Leeds.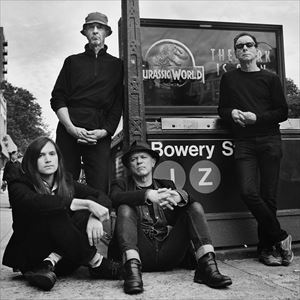 14+ only. 14s to 15s must be accompanied by an adult. No refunds will be given for incorrectly booked tickets.
More information about Wire tickets
1977 -1980

Wire were formed by Colin Newman (guitar & vocals), Graham Lewis (bass & vocals), Bruce Gilbert (guitar) and Robert Grey (drums). The band subjected themselves to a lengthy period of intense, 12 hour a day rehearsals, honing their - admittedly basic - musical skills until razor sharp. What emerged was a version of rock shorn of all ornamentation and show business. Newman and Gilbert's chord sequences often took unexpected turns, Gra-ham Lewis's unique lyrics were vivid but oblique and Grey's drumming was minimal and metronomic.
They may have arrived at the same time as punk and drawn on its initial burst of energy, however Wire's forward looking attitude meant they always stood apart from it. In fact, Wire could easily lay claim to having been the very first post-punk band. And yet, it's equally true to say they could be viewed as part of the British tradition of left field art-school bands which includes Roxy Music and The Pink Floyd.

Wire played their debut proper at London's Roxy club on April 1st 1977. The band were immediately picked up by the prodigious EMI offshoot label Harvest, and their debut album 'Pink Flag' was released in the December of the same year. The album was a collection of 21 songs, many of them sharp, abrasive and ex-tremely short. In fact, six of them didn't even make the one mi-nute mark. Yet many of the tracks, such as '12XU' and 'Ex-Lion Tamer', are now rightly regarded as classics.

'Pink Flag' not only received near universal acclaim, it would go on to be cited as a major influence by a panoramic range of art-ists, including Big Black, My Bloody Valentine, Blur, Henry Rollins, Joy Division and R.E.M.

Whereas many bands would have considered their sound minted, by Wire's second album 'Chairs Missing' they had already moved on. Here they included synths and keyboards in the mix and more importantly, they began to explore the possibilities of the studio. The album also featured the gorgeous single 'Outdoor Miner'.

Less than two years after the release of their debut, Wire's third album '154' broke further new ground, showing a band who were as engaged with the psychedelic guitar pop of 'Map Ref. 41ºN 93ºW' as they were with the moody soundscapes of 'Indirect En-quiries'. As the NME review of the time so acutely observed "'154' makes 99% of the opposition look feeble in comparison."

Following the album, the band and EMI parted company. Wire planned a series of concerts to showcase the increasingly wide ranging set of compositions which would have made up the band's fourth album. Yet these were not orthodox rock shows. Wire presented the songs with performance art interventions, some of which had a decidedly confrontational slant. The shows left audiences divided and potential labels unsure of what they might be signing. Although there was no formal decision to split up, by the end of 1980, Wire had ceased operations.

1985 - 1991
When Wire returned as a live entity, it wasn't with the aim of ex-ploiting former glories. In fact, their decision to play only new ma-terial and eschew their back catalogue took many by surprise. But, as ever, Wire were only interested in moving forward.

The reactivated unit found a natural home with Mute Records. The first fruit of this relationship was 1985's 'Snakedrill EP'. This was a Wire retooled for the digital age. The same intensity and mystery, but with a different kind of gloss. The band followed it up with 'The Ideal Copy'. The album was recorded at the legend-ary Hansa Studios in Berlin, and found them extending their ex-periments with sequencers and new compositional approaches, with an increased emphasis on the studio itself as an instrument.
Meanwhile, at the other end of the spectrum, Wire's live perfor-mances during this era saw the band stripping their sound back to a 'beat group' format - guitars, bass and vocals with Grey's spartan drum kit consisting of just kick drum, hi-hat and snare.
Further albums for Mute followed. 1988's 'A Bell Is A Cup…Until It Is Struck' displayed a summery motorik and boasted the unfor-gettable pop single: 'Kidney Bingos'. Wire's next album took a curious swerve. 'It's Beginning To And Back Again' collected live recordings of much of the material, then seriously reworked them in the studio. 'Manscape' followed, moving the band into territory where the electric and the electronic were more closely interwo-ven. Meanwhile 'The Drill' album took the unusual step of pre-senting eight different interpretations of one song.

When Grey departed, Newman, Gilbert and Lewis truncated their name to Wir and released 'The First Letter', a set of songs which developed the compositional approaches of 'Manscape'. But af-ter this detour, Wire ceased operations once more.

2000 - 2016
When all four members of Wire reconvened, it was initially as a purely live entity. Yet, ever the contrarians, this time they side-stepped expectations by presenting sets which cherry picked from every era of the band's development.
However, the first Wire album of the 21st century was a far more forward looking affair. 2003's 'Send' took the urgency and impact of their 1977 debut and retooled it via the production techniques of techno. These were armour plated songs, delivered with a le-thal intensity. The release was supported by blistering perfor-mances, which proved the band were still an equally serious proposition in the live arena. It seemed Wire had judged the moment perfectly, as 'Send' received widespread critical approval and rode high on numerous end of year lists.