Zippos Circus Billets
GUILDFORD, Bannister Field.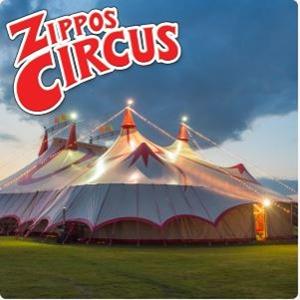 Nous nous attachons à vous fournir des informations correctes lorsque nous vous proposons le plan de la salle d'un événement. Ho...
Plus d'informations sur les billets Zippos Circus
CHILDREN
Children under 2 go free if they don't occupy a seat. 15 years and over pay adult prices. There are no concessions other than for children.
GENERAL INFORMATION
Zippos Circus is back with a nationwide tour - Bon Voyage - taking visitors on an adventure around the globe with an international cast of stunning circus performers. The tour kicks off for Easter on Blackheath, London, running from 31 March to 30 October 2022.
Brazilian showman, comic and acrobat Paulo Dos Santos, who stands at just over one metre tall, invites the audience on a fast-moving journey of thrills, fun and sensational acts from all corners of the world.
The colourful line-up includes the legendary motorbike Globe of Death from the Brazilian Lucius Team; fast juggling and whip cracking from Czech Republic star Toni; contortion from Mongolia, aerial antics from the Irish Garcia Duo, Teeterboard thrills from Cuba, comedy from the UK starring Whimmie Walker, bouncing trampoline capers from Havana with Poli, sensational tumblers from Kenya and daredevils Brian and Matias from Argentina in a death-defying Wheel of Steel.
All in all a packed suitcase of fun and adventure! Bon Voyage!
Please note that the show complies with all COVID-19 health and safety measures in the well-ventilated big top.
Martin Burton, Founder and Director of Zippos Circus, commented: "I cannot tell you how pleased we are to be back on the road again. We have worked tirelessly with the government and public healh authorities to get the show back on tour in line with official regulations and guidance and are now confident that we can do so in a COVID-secure manner. The outdoor nature of the circus and well ventilated Big Top plus socially distanced seating and a range of new hygiene and safety measures will all help ensure that Zippos Circus will be a safe place for both our performers and families to enjoy and we look forward to welcoming everybody to our new show."
'heartstoppingly good fun' TIME OUT
"you feel like an awestruck child' The GUARDIAN
'one of the most thrilling circus acts I have ever seen' THE DAILY EXPRESS
'Zippos makes Cirque du Soleil look wimpish' DAILY TELEGRAPH
Performance may include bright or flashing lighting, non-particle smoke effects, loud sound-effects Duration approx. two hours including an interval of approx. 15 mins. Light refreshments and circus souvenirs on sale We reserve the right to vary the content of the performance at any time. Doors generally open 30 - 45 minutes before show time