The Avener - Billets
Le Cepac Silo, Marseille.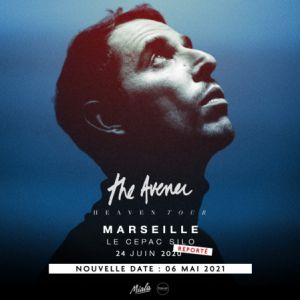 Plus d'informations sur les billets The Avener
Après avoir fait danser la planète entière avec son 1er album "The Wanderings of The Avener », le producteur électro français revient fort en 2019.

Son nouveau titre « Beautiful », dévoilé avec un live très exclusif sur le toit du Palais des festivals à Cannes, annonce son grand retour avant l'arrivée d'un long format à la rentrée et d'une tournée !




Compte-tenu des mesures gouvernementales contre le coronavirus Covid-19 et de la situation sanitaire actuelle, le concert de The Avener au Cepac Silo le 24 juin 2020 est REPORTÉ au 06 mai 2021.

Les places en votre possession restent valables pour la date de report.

Si toutefois vous souhaitiez vous faire rembourser, nous vous invitons à vous rapprocher de votre point de vente avant le 31/12/2020.