Decapitated + Black Tongue + Heart Of A Coward + Inferi - Billets
Le Ferrailleur, Nantes.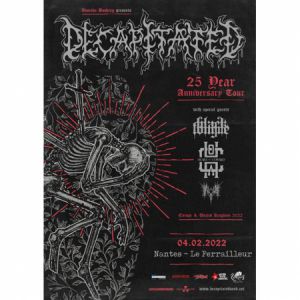 Plus d'informations sur les billets Decapitated + Black Tongue + Heart Of A Coward + Inferi
Organisateur : N-Syndicate Productions

DECAPITATED (Death Metal Technique):

Formé en 1996, les maîtres polonais du Death Technique, DECAPITATED se sont bâti une réputation au fil des ans comme l'un des leaders internationaux du genre. Au cours de leur carrière de près de 25 ans, DECAPITATED a sorti sept albums studio, qui sont considérés comme faisant partie des sorties de death metal les plus influentes du 21e siècle.



BLACK TONGUE (DeathCore) :

Black Tongue est un groupe de deathcore, dit down tempo, formé en 2013 au Royaume Uni.

HEART OF COWARD (MetalCore) :
HEART OF A COWARD a parcouru un long chemin depuis sa création en 2009 - accumulant les éloges de la presse et des fans. Défini par leur puissance et leur ténacité, HEART OF ACOWARD sont devenus des piliers de la scène metal britannique, connus pour leurs concerts dynamiques et leur maîtrise des concerts.

INFERI (Death Metal) :
INFERI est un groupe de death metal technique américain forgé dans les profondeurs de Nashville. Le groupe s'est formé en 2006 et s'est positionné en dehors du pack générique en mélangeant une musicalité mélodieuse mais également technique rarement vue dans les groupes de métal extrême d'aujourd'hui.