The Big Bluesy Trip Band - Billets
CinÚma Bonne Garde, Nantes.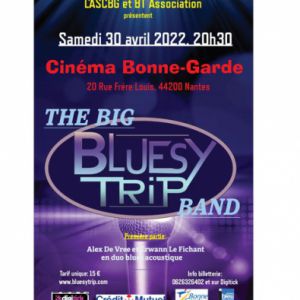 Plus d'informations sur les billets The Big Bluesy Trip Band
Organisateur : Association BLUESY TRIP et ASCBG Nantes
Ne ratez pas ce concert exceptionnel du Big Bluesy Trip Band. 12 musiciens sur scène, pop, rock, soul, funk à l'américaine, 400 places assises dans ce cinéma-théâtre au confort optimal, acoustique au top, première partie duo blues Alex de Vree et Erwann Le Fichant, parking gratuit, entracte, bar ouvert, convivialité.


Attention, les places sont limitées et nous avions dû refuser du monde en 2019. Réservez immédiatement vos places et celles de vos proches.