Jardim Sonoro à Lisboa - Billets
Parque Eduardo VII, Lisboa.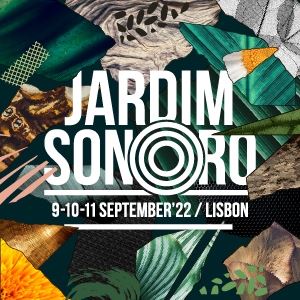 Cet événement est réservé aux personnes de plus de 3 ans. Aucun remboursement ne sera accordé aux personnes de moins de 3 ans.
Paiement de votre Acompte/Solde
Vous avez déjà payé votre acompte? Payez votre solde ici
Veuillez indiquer votre numéro de référence et l'adresse e-mail pour la commande passée pour l'acompte sur un billet.
Vous ne trouvez pas votre numéro de référence ? Connectez-vous au service client pour consulter vos commandes récentes
---
Pour tout ou partie des éléments pour cet événement, vous devez entrer un code promotionnel.
Veuillez indiquer vos références ci-dessous pour acheter vos billets.
---
Plus d'informations sur les billets Jardim Sonoro
After a 2-year break, we start a new stage in 2022 as Jardim Sonoro in the usual place, Parque Eduardo VII.

This, which would be the 7th edition of the festival, will actually be the 1st with this new concept and it will take place on the second weekend of September, on the 9th, 10th and 11th.

Located in an idyllic garden in the heart of the city, the urban experience of the festival is based on a concept that intends to take advantage of everything the city has to offer, from the fantastic daylight, to the long and warm nights of the end of summer. The diversity and quality of its musical programming helped Jardim Sonoro to distinguish itself as an outstanding festival with its own personality.

From Ambient to Techno, passing through Disco and House, making stops in Jazz, Soul, Funk, Pop and Hip-Hop, in the format of DJ sets, live acts and concerts, Jardim Sonoro has been following national and international production, revealing promises and promoting the reunion with well known names.

Apart from the culture, we have a strong social component and a huge environmental responsibility linked to the festival. In addition to a "waste free" practice and promoting the preservation of the garden, every year, Jardim Sonoro associates itself with Casa dos Animals de Lisboa, donating part of its income in the form of food, as well as all the remaining money in the bracelets and cards sold during the event, managing to reach €12,000 in the last edition donated to this important cause, which makes Jardim Sonoro a unique event in the Portuguese capital.

Welcome to the Sound Garden!