MEO SUDOESTE 2021 - Billets
Herdade da Casa Branca, Zambujeira do Mar.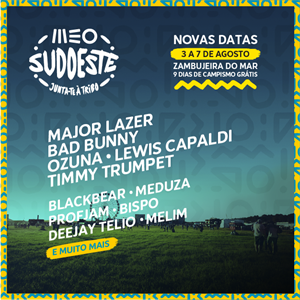 The Tickets for the 2021 edition are already on sale, at a special price until December 31st!
This five-day festival set in the south of Portugal is a paradise for dance music fans. With star-studded line-ups of the best in EDM, MEO Sudoeste festival also includes hiphop, pop and reggae artists. MEO Sudoeste goes beyond the music and provides you with a chance to kick back and relax between sets on the stunning Zambujeira do Mar coastline. Past artists include Post Malone, Anitta, Steve Aoki, Shawn Mendes and Lil Wayne.
Cet événement est réservé aux personnes de plus de 6 ans. Aucun remboursement ne sera accordé aux personnes de moins de 6 ans.
Plus d'informations sur les billets MEO SUDOESTE 2021
PROMOTER: Música No Coração