Pangeia - Billets
(Sala Preta) Teatro Taborda, Lisboa.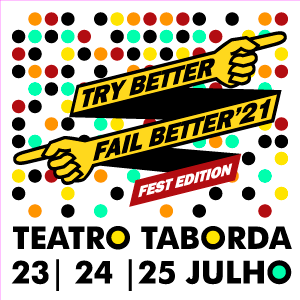 Cet événement est réservé aux personnes de plus de 16 ans. Aucun remboursement ne sera accordé aux personnes de moins de 16 ans.

Nous nous attachons à vous fournir des informations correctes lorsque nous vous proposons le plan de la salle d'un événement. Ho...
Plus d'informations sur les billets Pangeia
OFF TB, FB'21 refers to the special program of the cycle TRY BETTER, FAIL BETTER'21 – FEST EDITON, in which Teatro da Garagem invites creation structures and/or creators to integrate the Festival's programme. In this edition, OFF TB, FB'21 counts the presentation of the final exercise of the Masters in Theater and Community of the Superior School of Theater and Cinema.

SYNOPSIS

Don't ask me about the color of my photo. It can be dangerous. Can you hear? I miss me. I miss my grandmother's house. I want to be again. It is urgent that the doors open. Get the map! The ruins make the mound, the mound makes the source. You had told me.
PANGEIA, a performative show, presents itself as an X-ray of a community creative body, where languages and identities are intimately related, in the search for a common space.

CAST AND CREW LIST

Artistic Direction Rita Wengorovius

Creation KOLETIVO 731 | Ana Dias, Atcho Express, Duarte A. Soares, Klemente Tsamba, Liliana Janeiro, Maria Inês Brás, Mariana índias, Patrícia Soso, Paula Silva, Salita Mateus
Support staging and movement Salmo Faria

Set design and costumes nucleus Ana Dias, Klemente Tsamba, Mª Inês Brás, Patrícia Soso and Salita Mateus

Light design nucleus, Atcho Express, Liliana Janeiro, Mª Inês Brás, Mariana índias

Sound space nucleus Klemente Tsamba, Mariana Indias, Patrícia Soso

Dramaturgy nucleus Duarte A. Soares, Liliana Janeiro, Patrícia Soso and Paula Gonçalves

Production nucleus Ana Dias, Duarte A. Soares, Mariana Índias, Salita Mateus

Communication nucleus, Atcho Express, Klemente Tsamba, Mª Inês Brás

Host Teatro da Garagem

With support of Sociedade Comercial do Vouga, Câmara Municipal de Lisboa, EGEAC, Junta de Freguesia de Santa Maria Maior

Financed by Direção-Geral das Artes, Governo de Portugal | Ministério da Cultura

More information:

+351 218854190 | +351 924213570

producao@teatrodagaragem.com
O TRY BETTER, FAIL BETTER [Ciclo Novos Criadores] é um incentivo a novos criadores, que encontram no espaço do Teatro Taborda uma casa para apresentar os seus trabalhos, a um público mais vasto. O mote é justamente o da criação por tentativa e erro, um encontro entre sensibilidades e procedimentos artísticos que estão em pleno processo de formação e/ou afirmação.