Russian Circles - Billets
LAV - Lisboa Ao Vivo, Lisboa.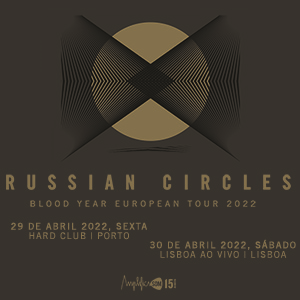 Cet événement est réservé aux personnes de plus de 16 ans. Aucun remboursement ne sera accordé aux personnes de moins de 16 ans.
Plus d'informations sur les billets Russian Circles
A precise and infallible organism with absolutely no signs of wear and tear, Russian Circles have been trodding a path for a decade and a half that has made them an essential presence in any compendium of heavy instrumental music. Owners of an unmistakable sonic identity, a result of the marriage between Brian Cook's seismic bass groove, Dave Turncrantz's dazzling drum mastery, and the labyrinthine gallop of Mike Sullivan's guitar, the Chicago band finally returns to Portugal in 2022 to present Blood Year, the new chapter in a collection already packed with classics such as Station, Geneva or Memorial. Now rescheduled due to the Covid-19 pandemic, write it down in your schedule because it will be unforgettable: April 29th in Porto (Hard Club) and April 30th in Lisbon (LAV-Lisboa ao Vivo).

PROMOTOR: AMPLIFICASOM