Spring Break Portugal - Billets
Multiple Venues, Albufeira.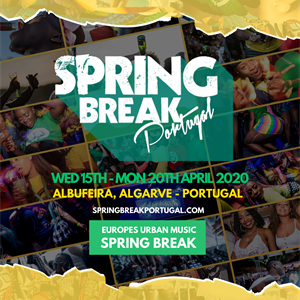 Europes only Urban Music Spring Break celebrates another wild week in the Algarve, with parties across the lively resort of Albufeira on Portugal's south coast.
Spread across the city's beaches, bars, clubs, pools, boats and beyond, the five-day, five-night celebration will consist of a number of parties soundtracked by DJs playing the best in hip hop, R&B, dancehall, bashment, Afrobeats, house, baile funk, soca, garage, grime and more.
From chilling on the beach or by the pool by day, to hitting the clubs by night, Spring Break Portugal is the perfect combination of beach holiday and extended weekender.
Cet événement est réservé aux personnes de plus de 18 ans. Aucun remboursement ne sera accordé aux personnes de moins de 18 ans.
Plus d'informations sur les billets Spring Break Portugal
Wednesday 15/04/2020:
Day - Registration (1pm - 6pm). Location: Solo Bar
Night - Sugar & Spice (11pm - 4am). Location: Solo Bar

Thursday 16/04/2020:
Day - Soca Juice Beach Party [12pm - 8pm] Location: No Solo Agua Albufeira
Night - Block Party: Colour Clash [11pm - 4am] Location: La Bamba

Friday 17/04/2020:
Day - Epic Pool Party [2pm - 8pm]. Location: Heaven
Night - Afrowave: All White Party [11pm - 4am]. Location: Libertos

Saturday 18/04/2020:
Day - TropiCool Boat Party [5pm - 8pm]. Location: Marina de Albufeira (AlgarExperience)
Night - Spring Break Fest [12am - 6am]. Location: Kiss Disco Club

Sunday 19/04/2020:
Day - Barrio Favela Rooftop Party [2pm - 8pm]. Location: Albufeira 66
Night - Shutdown: Closing Party [11pm - 4am]. Location: Solo Bar
PROMOTER: PRIMO DIGITAL, LTD