The World of Banksy - The Immersive Experience - Billets
Espacio Trafalgar, C/ Trafalgar 34, Barcelona.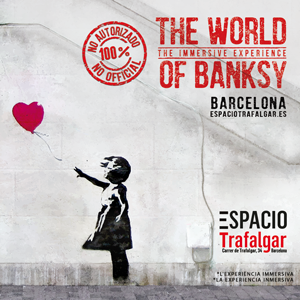 Gratuit en-dessous de 6 ans.
Visite guidée GRATUITE possible les lundis (durée : 1h)
Horaires (de début) possibles: 11h / 12h / 13h / 16h / 17h / 18h
Veuillez réserver votre visite guidée au numéro: +34 935 156 863
Plus d'informations sur les billets The World of Banksy - The Immersive Experience
Après le succès de l'exposition "The World Of Banksy" à Paris, nous vous emmenons en voyage à Barcelone avec le maître du street art. Devenu artiste de renommée mondiale, Banksy est pourtant parvenu à conserver l'anonymat tout en nous offrant régulièrement des coups d'éclat, des œuvres murales et des happenings en tous genres. Venez découvrir plus de 100 œuvres de Banksy à l'Espacio Trafalgar de Barcelone et profitez d'une expérience immersive unique.
Informations horaires de l'événement: L'exposition est ouverte de 10h à 20h (dernière entrée 19h15) sauf le jeudi, ouverture jusqu'à 22h, dernière entrée à 21h15)


PROMOTEUR: Espacio Trafalgar S.L.