The Play That Goes Wrong Tickets and Dates
Duchess Theatre, London


The Play That Goes Wrong - Hilariously Catastrophic
If you are looking for a rib-tickling, laugh-a-minute play for your next visit to the West End, look no further than The Play That Goes Wrong. Kick back and watch the show's clumsy thespians attempt to survive until the final curtain, with hilarious consequences. There are few shows on the West End at present that offer the out-and-out hilarity and comedy quite like The Play That Goes Wrong. If you want a moody, atmospheric production to immerse yourself in, this show is probably not for you. But if you're just after some good old-fashioned fun, this show ticks all the right boxes.
What is the Storyline of The Play That Goes Wrong?
The Cornley Polytechnic Drama Society host their very own 1920s-style murder mystery. However, as the show's title suggests, the production is something of a catastrophe – but a hilarious one at that!
Most Recent Awards for The Play That Goes Wrong
The Play That Goes Wrong has been stumbling around on stage for more than four years now – and boy are we glad it's still going! The production has received a host of ringing endorsements from some of the biggest show critics and organisations. In 2015, it won the Olivier Award for Best New Comedy and, in 2017, was also named Best New Play and Favourite New Play by Broadway World and Broadway.com. With the tagline "Going Wronger for Longer", it's little surprise that the show has built up such a loyal following of fans due to its down-to-earth, unpretentious nature.
The Play That Goes Wrong Tickets Available at See Tickets
With See Tickets, you can the best value tickets for The Play That Goes Wrong at the touch of a button. There are plenty of showtimes for you to choose from to suit you. If you're looking for a West End show that offers fun and laughter for all the family, this could be the show for you. With anyone aged eight years old and above permitted to enter the Duchess Theatre, it's one of the more inclusive shows on the West End scene. Covent Garden's Duchess Theatre is also one of the most intimate venues in the West End too, with a capacity of under 500 ensuring everyone feels close to the on-stage action. Buy tickets to watch The Play That Goes Wrong today and prepare to laugh your socks off!
What the Critics Have Been Saying About The Play That Goes Wrong
"The funniest show we've seen! If you can get a ticket, go!" – Ant & Dec
"A joyous show that builds to a delirious climax" – Financial Times
"It's as though the Mousetrap has been taken over by Monty Python" – Whatsonstage
"I feared I was going to hyperventilate" – Daily Mail
"A triumph of split-second timing" - Metro
Important Information
Booking Period: Until 2 April 2023

Performance Times: Tuesday to Saturday 7.30pm, Sunday 7pm; matinees Saturday 2.30pm, Sunday 3pm.

Running Time: 2 hours (including interval).

Age Restriction: Over 8 years old

Venue: The Duchess Theatre, Catherine Street, London WC2B 5LA

Production Shots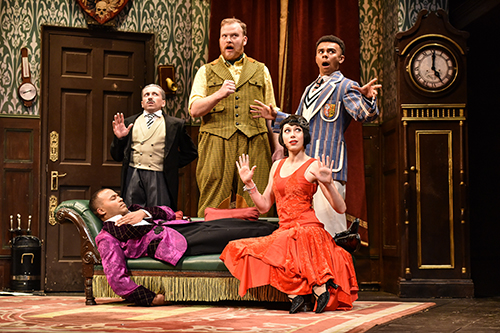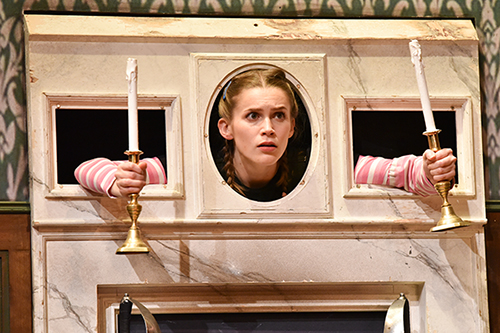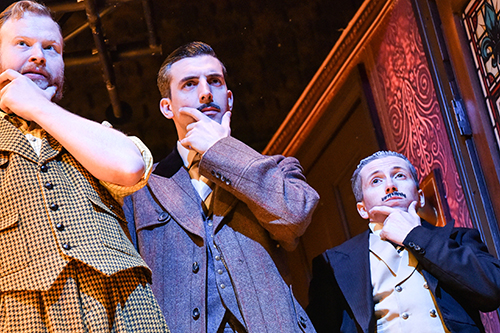 The Cornley Polytechnic Drama Society are putting on a 1920s murder mystery, but as the title suggests, everything that can go wrong… does! The accident-prone thespians battle against all odds to make it through to their final curtain call, with hilarious consequences!
Given 5 stars from The Daily Mail, called a 'Gut-busting hit' by the New York Times and with celebrity endorsements from the likes of Ant and Dec as the 'funniest show we've seen! If you can get a ticket go', what are you waiting for?
Now stumbling through its fifth catastrophic year, Mischief Theatre's THE PLAY THAT GOES WRONG is guaranteed to leave you aching with laughter!
Important Information
Booking Period: Until 2 April 2023

Performance Times: Tuesday to Saturday 7.30pm, Sunday 7pm; matinees Saturday 2.30pm, Sunday 3pm.

Running Time: 2 hours (including interval).

Age Restriction: Over 8 years old

Venue: The Duchess Theatre, Catherine Street, London WC2B 5LA
Production Shots
What people are saying about The Play That Goes Wrong