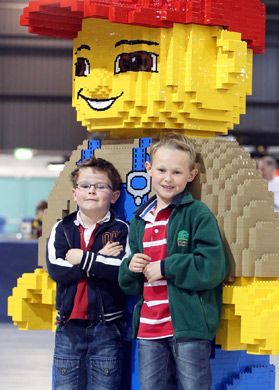 Everything is Awesome!
BRICK 2014 – Built For LEGO Fans is Heaven for anyone who loves the world's most popular toy. A four-day show filled with loads of hands-on and interactive fun with LEGO for fans of all ages.
See specially created sets from Europe's best LEGO fan builders, get creative in construction zones, experience LEGO games, meet the LEGO experts, sit in on building clinics, meet fellow LEGO club members.
See dozens of life sized LEGO Models, loads of serious AFOL stuff and all packed into the massive ExCeL Centre. Brick 2014 is the UK's largest ever interactive LEGO show and is heaven for fans of this amazing brick.
This is BRICKTOPIA!
Buy tickets for BRICK 2014 here!
JUST ANNOUNCED
Professional LEGO artist Warren Elsmore's 'Brick City' exhibition will form part of the forthcoming Brick 2014 show at ExCeL, 27-30 November 2014.
As part of the massive BRICK 2014 show, Brick City will have its first London appearance with over 72 models on display including the awesome St Pancras station and Olympic Park. Housed recently at Paisley Museum and Art Galleries, Brick City attracted over 50,000 visitors over its 16 week run and has become the largest attraction to be staged at the museum and now it rolling down south to inspire the many thousands of LEGO fans expected to attend BRICK 2014.