Andrew Lloyd Webber's record-breaking musical CATS returns to the West End for a strictly limited 12 week run at the London Palladium beginning 6 December 2014. Adapted from TS Eliot's 'Old Possum's Book of Practical Cats', with an amazing musical score that includes the timeless "Memory", spectacular set designs, stunning costumes and breathtaking choreography, CATS is a magical musical like no other. One of the longest-running shows in West End and Broadway history, CATS has been seen by over 50 million people and enchanted audiences in over 300 cities around the world – now you too have the chance to experience this legendary musical phenomenon.
CATS is directed by Trevor Nunn, with Gillian Lynne as Associate Director and Choreographer and designs by John Napier. Book is by T. S. Eliot with music by Andrew Lloyd Webber. Chrissie Cartwright, long term Associate Director of Cats, will work with Trevor Nunn and Gillian Lynne in re-directing the production for the London Palladium.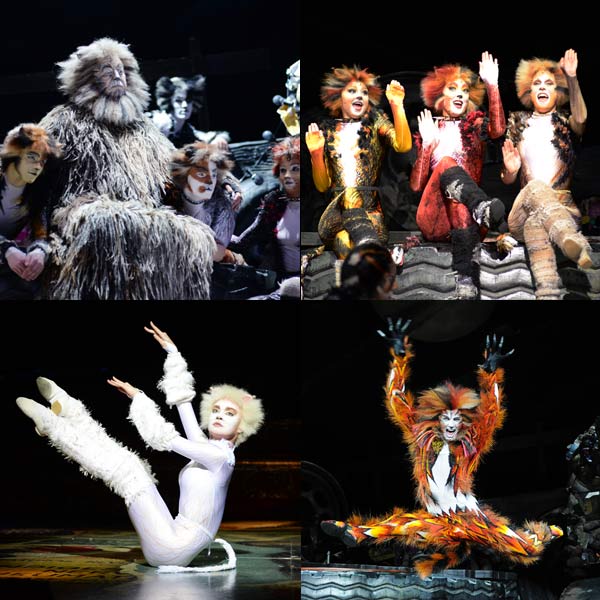 CATS was originally produced by Cameron Mackintosh and The Really Useful Group Limited.
'PURRFECT - NOT TO BE MISSED' Metro
'SHOWS DON'T COME MUCH BETTER THAN THIS - IT'S ABSOLUTELY BRILLIANT!' Daily Express
'Gillian Lynne's OUTSTANDING choreography is danced superbly by a fantastic cast.' Manchester Evening News
'Go on... Purr with pleasure... A brilliantly imaginative show!' Daily Mirror
'CATS IS SURE TO SET YOU PURRING' Plymouth Evening Herald
'You leave the theatre feeling like the cat that got the cream' Times
To celebrate the return of Cats, here are some facts about the show!
Old Possum's Book of Practical Cats – on which the musical CATS is based – was written by T S Eliot during the 1930's and first published in 1939 by Faber and Faber. Although Eliot generally intended his cat poems to be for children, they were also appealing and amusing to adults.
The original production opened at the New London Theatre, in the West End on 11 May 1981. It was the recipient of two Olivier awards; Musical of the Year and Outstanding Achievement of the Year in a Musical which went to Gillian Lynne. Eight years later it celebrated its first important milestone: after 3,358 performances, CATS became the longest running musical in the history of the British theatre.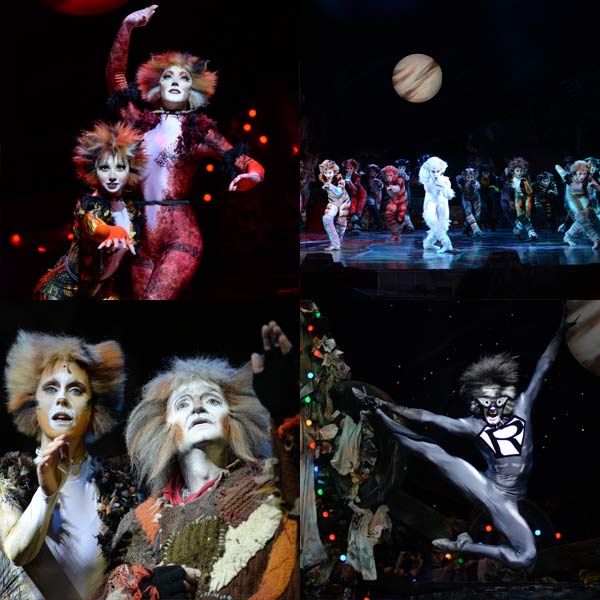 On 29 January 1996 the London production of CATS celebrated its 6,141st performance and became the longest running musical in the history of West End theatre.
CATS closed in London in 2002, the same year it celebrated its 21st birthday having notched up a staggering 8,950 performances.
CATS opened on Broadway at the Winter Garden Theatre on October 7, 1982, and continued to live up to its motto of playing "Now and Forever' until September 10 2000. In 1983 the Broadway production became the recipient of seven Tony awards including Best Musical and Best Original Score. On 19 June 1997 the show became the longest running musical on Broadway until January 9th 2006 when it was overtaken by The Phantom of the Opera.
Since its opening, CATS has been presented in twenty-six countries and over three hundred cities, including such diverse destinations as Buenos Aires , Seoul , Helsinki and Singapore . Within two and half years of the London opening there were productions in New York, Tokyo, Budapest and Vienna, and the first of tour US touring productions had hit the road. To date the show has been seen by over 55 million people world-wide.
CATS has been translated into ten languages: Japanese, German, (three versions for Germany, Austria and Switzerland), Hungarian, Norwegian, Finnish, Dutch, Swedish, French, Spanish (two versions for Mexico and Argentina) and Italian. The Swiss production required a bilingual cast who performed in German and English on alternate nights.
The show requires 8 forty-foot trucks to move it from theatre to theatre, transporting the sets, musical instruments, and sound and lighting systems, together with hundreds of costumes and wigs and over one hundred lamps for the lighting rig. A team of over 70 people will work around the clock to ensure the show is ready for the opening night.
"Memory" has been recorded by a variety of over 150 artists ranging from Barbra Streisand and Johnny Mathis to Liberace. Barry Manilow's rendition was a top-40 hit in the U.S. and a techno/dance version by European singer Natalie Grant topped the European dance charts in 1999.
The Original London Cast Recording of CATS won the 1982 Grammy Award for Best Cast Album . The next year the Original Broadway Cast Recording won the same award.