Surround yourself with sparkle as the after dark trail lights up for 2020. You'll find new moments to share with friends and family – brand new bright lights for winter nights.
Enter a botanical world filled with seasonal cheer. Discover a tunnel of stars, giant illuminated seed heads and trees wrapped in light on your way to the treetop waterfall, where this year, beams of light flash from side to side in an overhead aerial dance. The iconic Temperate House will spring to life, lit from within by dynamic splashes of colour and the towering tunnel will twinkle with thousands of tiny lights. Fiery sculptures will welcome you into the scented fire garden, aglow with hundreds of flickering flames and the much-anticipated Palm House Pond finale returns with a memorable soundtrack of festive classics.
Passionate about food, our crew of talented independent street food vendors bring a delicious twist to the treats on offer. Have yourself a merry little Christmas and complete your walk under the stars with festive drinks* with someone special.
*Separate charges apply.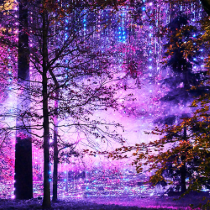 More information
DATES
Friday 4 December 2020 – Sunday 24 January 2021
ENTRY TIMES
• Christmas at Kew opens at 4.20pm and closes at 10pm.
• Main Entrance - Victoria Gate: Choose from twelve entry times every 20 minutes between 4.20pm and 8pm. Last entry 8.15pm.
• Lion Gate Entrance: Choose from eleven entry times every 20 minutes from 4.40pm and 8pm. Last entry 8.15pm.
• Tickets with pre-paid parking at Brentford Gate - choose from eight timed entry slots, at 20-minute intervals, between 4.40pm and 7pm. Last entry at 7.20pm
PRICES
Tickets from £19.50 (£12 for children). Kew Members receive further discounts. Booking fees apply.