Here it is! Glastonbury 2014! All tickets are now sold out but for those lucky enough to be heading down the farm this year start planning who you want to see!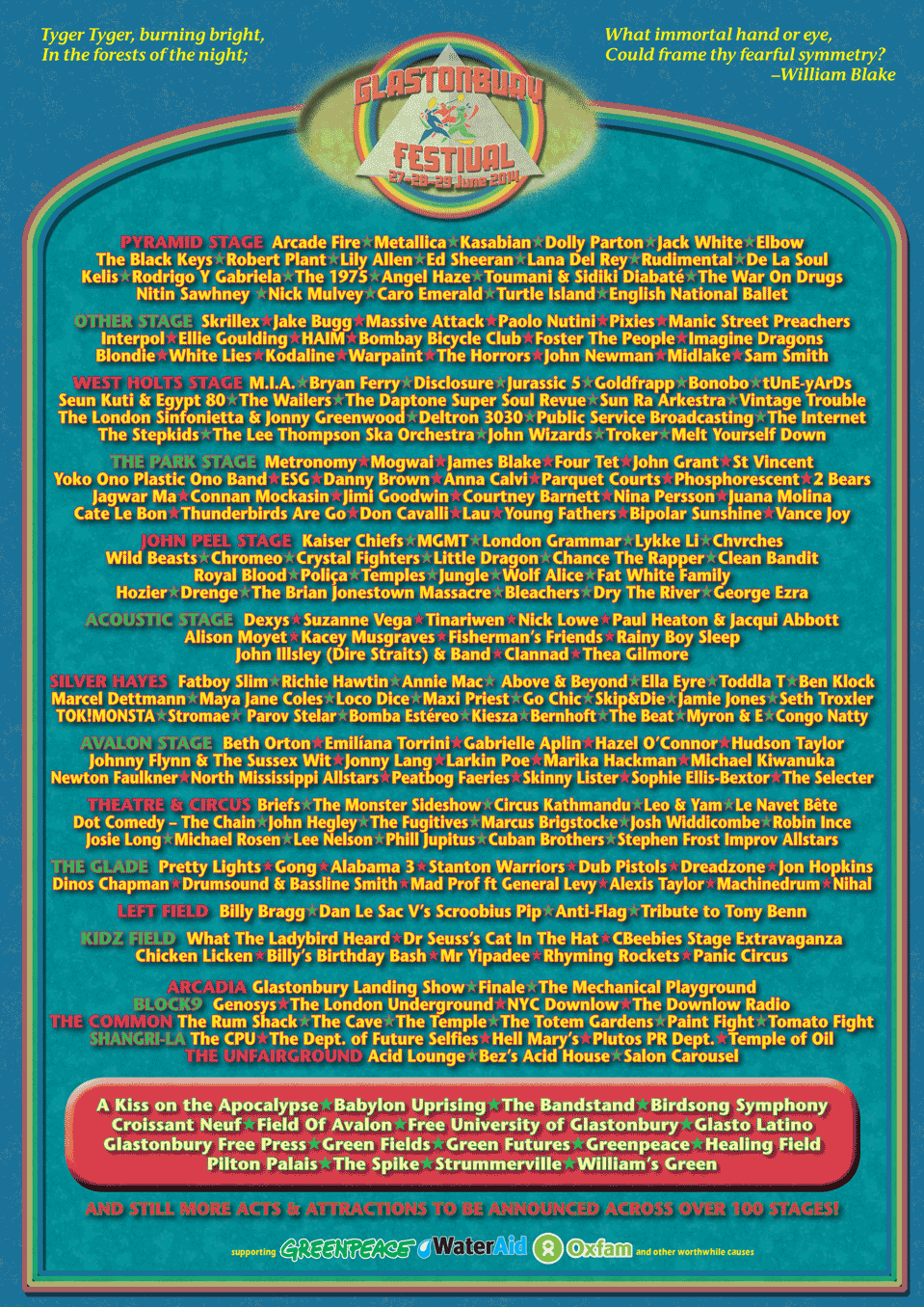 The Official Glastonbury website got a few words on the headliner choice and what they're excited about this year.
Hello Michael and Emily! So Metallica are the Saturday night headline act on the Pyramid Stage?
MICHAEL: Yes! Isn't that incredible?! I'm so pleased to have them.
It might be a choice that surprises a few people.
MICHAEL: Do you think so? Metallica are one of the most popular bands in the world! And they really are a phenomenal live act. This a band that can sell out stadiums in pretty much every country on the planet. From Newlyn to Newcastle on my travels, all through the years, people keen asking me, "When are Metallica going to play?" There's a huge swathe of people who love Metallica to bits and just think they're absolutely amazing. They're worthy headliners!


Glastonbury has never been renowned for hard rock acts, though.
MICHAEL: But we're a music festival. We've never limited ourselves to one particular genre and we've had pretty much everything over the years, including rockier acts like Rage Against The Machine, who were just incredible here in 1994. We try very hard to give our crowd the biggest and best acts that are out there at any given time. So when we heard that one of the most popular bands in the world was desperate to play here, we phoned them back!

EMILY: I think that in a funny way Metallica will bring a bit of the Arcadia spirit to the Pyramid Stage when they play. It's that heavy spectacle that's always existed here on the fringes, but I think it's going to really blow people away on the main stage. One of my fondest memories is that Rage Against The Machine set on the Pyramid in 1994. The energy in the valley was immense.
You seem to enjoy surprising people with the Pyramid headliners.


MICHAEL: Oh, absolutely. We've never been ones to just book the safe options. We had Jay-Z and Kings of Leon in 2008 when everyone seemed to think neither were capable of headlining here. And Coldplay in 2002 when they'd only released one album and people thought they weren't ready. Even in 1984, a lot of people were quite put out when we had the Smiths! Isn't that funny? But all of those worked out pretty well! And there have been so many others over the years. We want our line-up to be exciting and different. That's what we're here for.
And presumably for anyone who doesn't fancy watching Metallica, there will be plenty of other options?


EMILY: Yes, we've got more than 100 stages this year! There will be so many other things to see on the Saturday night. There'll be Pixies and Jake Bugg, MGMT on John Peel, and John Grant and Mogwai in The Park. Then we've got Bryan Ferry and Dexys both coming to Glastonbury for the first time and headlining West Holts and the Acoustic Stage respectively. Then in Silver Hayes, there's Annie Mac and Fatboy Slim, and Robbo Ranks will be firing it up on the Gully. And that's not even the half of it! It's going to be a big Saturday night!
But who will you be watching, Michael?


MICHAEL: Oh Metallica. Without a doubt. I can't wait! I just hope I can get a spot at the mixer desk - head on!