Andrea Bocelli - Concerto Coimbra Biglietti
Estádio Cidade de Coimbra, Coimbra.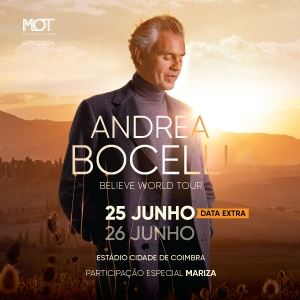 Confirm the reemission of your new ticket for the 25th of June Concert of Andrea Bocelli here
Questo evento è riservato alle persone di oltre 3 anni - Non verrà concesso nessun rimborso per le persone di età inferiore ai 3 anni.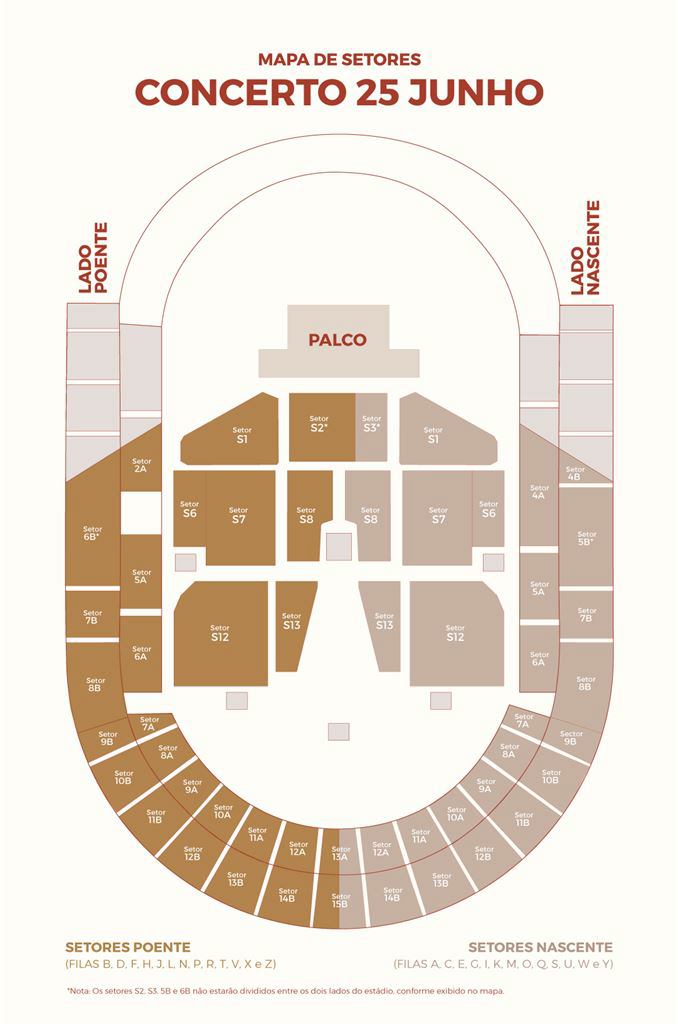 Quando proponiamo un piano della sala per un evento, facciamo tutto il possibile perché le informazioni che ricevi siano corrette. Tuttavia, non possiamo garantire l'esattezza delle nostre piante di sala in caso di tempo limitato o di cambiamenti specifici della sala, dovuti ad esigenze della produzione. Le piante di sala sono generalmente fornite a titolo indicativo e non sono un'esatta rappresentazione della disposizione dei posti nel luogo dell'evento.
Più informazioni su Andrea Bocelli - Concerto Coimbra biglietti
THE MOST ACCLAIMED TENOR IN THE WORLD KEEPS UP THE PROMISE OF A UNIQUE SHOW WITH AN EXTRA DATE

Andrea Bocelli's long-awaited show, initially scheduled for July 4, 2020, took on a new format. Rescheduled for June 26, 2021, the concert, in Coimbra, for reasons of safety and compliance with sanitary rules, will have an extra date, June 25th. This decision approved by the Directorate-General for Health will provide a safer and more comfortable environment for the public, since, on each day, only 50% of the expected capacity will be occupied.

The tenor's performance will be accompanied by an orchestra of 70 musicians and a choir with 60 voices, in addition to having two distinct moments - a classic beginning to the sound of the most erudite opera arias eternalized in his voice and a second part dedicated to most celebrated themes of his career.

What remains unchanged, besides the venue of the event - the Cidade de Coimbra Stadium - is the presence of the special guest and recognized ambassador of Portuguese music: Mariza. The international phenomenon, which takes the Portuguese sound of tradition and homesickness across borders, will remain on the alignment of the new show, promising a unique and unforgettable symbiosis with the emblematic voice of the singer who has conquered generations.

The Coimbra City Council, as co-promoter of the event, believes that Andrea Bocelli's concert is yet another contribution to the city's affirmation. For Manuel Machado, Mayor, "it is certain that this will be a distinct cultural spectacle, which shows that the city has conditions of excellence for the organization and hosting of major events, being certain that this will be a key moment for the application process of Coimbra to the European Capital of Culture in 2027".

For those who have already purchased a ticket for the first date in 2020, the same will be valid for one of the 2021 show. Check the conditions in www.concertocoimbra.pt/data-extra.

ANDREA BOCELLI FOUNDATION AND THE FIGHT AGAINST COVID-19

In addition to his undeniable musical contribution, Andrea Bocelli is also a philanthropist. With the Andrea Bocelli Foundation (www.andreabocellifoundation.org), the tenor takes on the mission of training people and communities in situations of poverty, illiteracy, anguish due to illness and social exclusion, promoting and guaranteeing support for projects of wide scope national and international, capable of overcoming these barriers and expressing their full potential.

In this regard, it is worth highlighting the solidarity of the event in Coimbra: in partnership with PLUS1 (www.plus1.org), 1 € of each ticket sold will be donated for the above causes. The foundation has even made part of its resources available to help combat Covid-19, and the tenor has been a recurring figure in several of the global awareness and support initiatives during the confinement period.

PROMOTOR: MOT