Kalorama Festival Billets
Parque Da Bela Vista, Lisboa.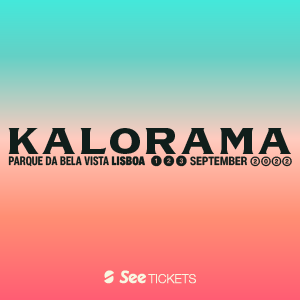 General Sale.
You will make a payment to the UK. Your bank may charge you between 2% and 4% to facilitate each transaction. The exact amount you are charged may depend on local laws in each country and any additional fees charged by your bank. For more information, please contact your bank.
Cet événement est réservé aux personnes de plus de 6 ans. Aucun remboursement ne sera accordé aux personnes de moins de 6 ans.
Plus d'informations sur les billets Kalorama Festival
Une nouvelle ère nous attend. Celui qui sait savourer chaque moment tel qu'il est vraiment - unique et unique. Les 1er, 2 et 3 septembre 2022 au Parque da Bela vista à Lisbonne.
Une ère qui arrive avec la soif de toucher, de regarder, de sentir. Une époque qui veut des câlins au lieu de likes et de sourires. Au lieu des commentaires. 1, 2 et 3 septembre, Lisbonne va voyager dans le temps et ressentir la musique dans sa véritable signification.
L'âge qui sait qu'il y a une vie au-delà de l'internet et qu'"être présent" n'est pas synonyme d'"avoir la wi-fi".
Au programme : Arctic Monkeys, The Chemical Brothers, Kraftwerk, Ornatos Violeta, Chet Faker, Moderat, Blossoms, Peaches... et bien d'autres !