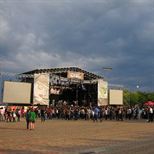 bilhetes para eventos em Parc Del Forum, Barcelona
Informações da sala/local
The Parc Del Forum is a public park located between Barcelona and San Adrian del Besos. Foreign Office Architects (FOA) designed the seaside park, which whips concrete and trees up from the land like icing. One of the main attractions of the city, the park's ultra-modern main building, Edifici Forum, was designed by Jaques Herzog and Pierre de Meuron, and its bathing area provides its visitors with a modern setting to enjoy Barcelona's Mediterranean beach. Parc Del Forum also contains a beautiful music auditorium and a solar photovoltaic panel installation, which helps protect the environment. Designed as the platform for Forum de Les Cultures 2004, the beautiful buildings and leisure areas of Parc del Forum now host business conventions and cultural events on its 167,000 square meters paved with colored asphalt.
Por comboio
The nearest Metro stop is El Maresme Forum on the Yellow Line 4. The nearest Tram stop is Forum stop on T4 line.
Por carro
The Parc del Forum is on the Ronda del Litoral ring road. If you are heading from Barcelona take the 'Selva de Mar' exit. If you are heading towards Barcelona take the 'Rambla Prim' exit.
Por táxi
Radio Taxi Barcelona Tel. (0034) 902 222 111/ 932 933 111 www.radiotaxibarcelona.com Taxis Barcelona Tel. (0034) 931 131 920 www.taxisbarcelona.org Barna Taxi Tel. (0034) 933 222 222 www.barnataxi.com
Por autocarro
The 7, 41, 48, 35, 141 and N5 bus services all drop off at various points very near to the Forum.
Estacionamento
4000 parking places Diagonal Mar shopping mall. 780 parking places Parc del Forum parking underground parking lot. 178 parking places Parking lot corner of Carrer de Josep Pla and Carrer Garcia Faria 184.
Acesso para cadeiras de rodas
There is wheelchair access.
Informações gerais sobre acesso
There are special platforms for disabled patrons.