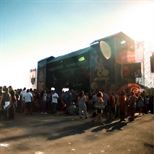 Tickets per esdeveniments a Passeio Maritimo de Alges, Lisbon
Ho sentim, en aquests moments no hi ha cap espectacle disponible.
This venue in Lisbon, Portugal has played host to some of the worlds top musicians from Metallica to Elton John. Optimus Alive is held here every year and produces some of the worlds best acts. The location is near a beach which provides an excellent backdrop to a concert.