Love of Lesbian
Recinto Nits al Carme, Marina Sur, Valencia.
Please note: The following tickets have been listed for resale by customers who can no longer attend this event. These tickets will be despatched by the seller who originally listed them.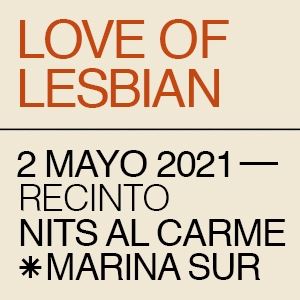 Love of Lesbian - Resale tickets
These tickets have been listed for resale by customers who can no longer attend this event. Please ensure that you are aware of the specific terms, conditions and restrictions for this event before purchasing tickets.
Show information can be found below and on the primary ticket sales event page.
Please note: a 10% resale fee will be added to this order.
More information about Love of Lesbian tickets
LOVE OF LESBIAN regresan a los escenarios presentando su nuevo trabajo V.E.H.N. (Viaje Épico Hacia la Nada)

Siguiendo la normativa actual de prevención al COVID-19.
Se recomienda de forma encarecida el acceso al recinto 90 minutos antes del inicio del concierto.
APERTURA DE PUERTAS 19.30H.
El inicio del concierto será a las 21.30h y el cierre de puertas de acceso al recinto será a las 21h.
HORARIO PREFERENTE Y RECOMENDADO DE ACCESOS:
PLATEA PREFERENTE Y PLATEA 2: 19.30h-20.15h
PLATEAS 3, 4 Y 5: 20.15h-21h
El recinto cuenta con zona de barras y restauración desde las 19.30h.
Para más info puedes consultar en: www.nitsalcarme.com
- La organización podrá grabar, retransmitir y filmar a los asistentes.
- Por motivos de medidas de prevención COVID, o por cambios en la normativa que se pueda realizar en cualquier momento, la organización podrá reubicar dentro de la zona adquirida a los espectadores para garantizar así la distancia de seguridad dentro del recinto con otros asistentes. Si esto ocurre, la organización notificará a los asistentes sus nuevos asientos.
Para garantizar la seguridad de todos los asistentes, todo aquel que no cumpla con las normas de seguridad COVID será obligado a abandonar el recinto.
- La entrada al recinto implica el aceptar las normas higiénico sanitarias en vigor.
- La realización del espectáculo está sujeta a la normativa establecida por las autoridades sanitarias y su cumplimiento, por lo que puede experimentar cambios hasta la misma fecha, tales como modificaciones en el horario de inicio u otras modificaciones. Todas las actualizaciones y cambios serán notificados por email a los compradores.