Counting Sheep
The Forge, London.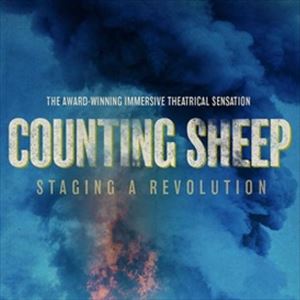 More information about Counting Sheep tickets
Running Time: 1 hours 30 minutes
Booking Period: 23 January - 17 March 2019

Age Recommendation: 16+

The award-winning (Scotsman Fringe First, Amnesty International Freedom of Expression) theatrical sensation comes to London in a brand new version from the directors of Belarus Free Theatre!

Based on Mark and Marichka Marczyks' first hand experiences during the 2014 Kiev Uprising, Counting Sheep invites you to lose yourself in the events that changed the course of Ukrainian history forever. Sing, march, protest, dance, eat, help, recoil, fight, laugh, cry. With folk singing, found footage and revolutionary staging this 'Guerrilla Folk Opera' is an electrifying exploration of human resilience.

This production is a unique artistic collaboration between Mark and Marichka Marczyk, whose lives changed forever while fighting for freedom and love in Maidan Square, and Natalia Kaliada and Nicolai Khalezin, founders of Belarus Free Theatre, whose struggles with the repressive dictatorship in Belarus are well documented. This joint theatrical statement from people who went through real life and death situations makes for an explosive stage experience.

★★★★ "Astonishing vigour, invention and scale" - The Scotsman

"An extraordinary piece of musical theatre... exhilarating" - The Guardian

★★★★ "Gets the audience right into the heart of a revolution" - Whats on Stage

Venue Information: This event takes place at THE VAULTS. Latecomers may be refused entry & your tickets will not be refunded.

Directions: This event takes place at Forge 2019, Forge, The Vaults, Leake St Waterloo, SE1 7NN. There is no parking.

Exit Waterloo Station via Exit Two onto Waterloo Road (there should be a Sainsbury's opposite). Turn right and walk towards The Old Vic. Turn right onto Bayliss Road. Take the second right on to Lower Marsh. Continue straight for 100m and turn right (after Greggs) onto Launcelot Street on your right hand side. Walk straight ahead, The Vaults Theatre is on your left hand side.