One Night Records present: Lockdown Town
One Night Records, London.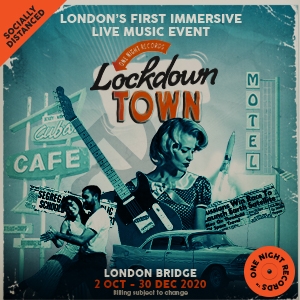 Due to current coronavirus restrictions, only bookings for a maxiumum of 6 people will be accepted at the venue.
More information about One Night Records present: Lockdown Town tickets
One Night Records presents Lockdown Town

"The best thing to do in London during the pandemic, and it might be the best thing to do in London, full stop" Theatre Weekly

"A joyous celebration of live music that also starts important conversations" The Stage

"I wish they could have left me there all night" The Daily Telegraph

"This immersive gig experience is a cure for the festival withdrawal blues" Time Out

"Best thing to do in London this week" Evening Standard

Immerse yourself in five musical eras, from Ragtime through Jazz, Blues, Country, into the best of fifties Rock & Roll.

Discover London's leading musicians singing the classics, some Christmas favourites, and their own hits.

Live music in a maze of tunnels. Different lineup each week. Dress up for your chosen decade. Themed food & cocktails.

Arrival times are staggered to ensure social distancing. Please ensure you arrive 30 minutes before your show start time.

Dress up. Cut loose. Step back in time. 

?You'll find gems you've never heard before and also see and hear the hits and legends of the future?? Gigwise
?Propelled by some of Britain's most ground-breaking and exciting underground food pioneers??? Music News
Watch The Teasers
Health and Safety
One Night Records is pleased to announce that the venue and event are designed to be Covid-Safe, incorporating social distancing and exceeding government guidelines for the present day by implementing the following measures:
Masks to be worn at all times on site - handed out on entry.
Increased ventilation designed into venue mechanics
All drinks and food service to be pre-ordered or using 'drive-thru' mechanic, so no communal bar area will be in use.
Suitable washing facilities with soap and warm water and hand sanitisers will be provided at regular intervals
We will also provide tissues, no-touch trash cans, hand soap, alcohol-based hand rubs containing at least 60 percent alcohol, disinfectants, and disposable towels for workers and audiences. 
Signage will encourage respiratory etiquette, including covering coughs and sneezes, and bins provided for disposable gloves and tissues
Hand sanitiser (alcohol gel) dispensers in each tunnel archway entrance
No 'household' of ticket holders will come closer than 2.5m to the next household - audiences will follow guidelines throughout experience.
Strict housekeeping in effect wherever audiences go.
Venue cleaned by professional teams every night.
Every item bought or used at ONR has a fresh sticker for 'COVID-19 Safe To Use'. 
Important Information
Booking Period: 2 October - 31 January 2021
Venue:One Night Records, Wardens Grove, London SE1 0HT
Running Time: The performance is approximately 2 hours long with 3 integrated opportunities to enjoy food and drinks as well as restrooms.
Arrival: Please arrive at the venue at least 15 minutes before your time slot to allow time to check in before your entrance. Please be aware there will likely be queues. We are on a tight schedule so please make sure you don't miss your slot. Bag checks may be needed.
Hygiene: Due to Covid-19 we are having to ensure that social distancing rules are adhered to at all times. Please make sure to read our guidelines before coming. If you do not adhere to the hygiene policy, you will be asked to leave.
Cloakroom: Unfortunately, there are no cloakroom facilities due to social distancing rules, however we are providing hooks for you to keep your belongings on. This is at your own risk.
Age Restrictions: This performance is recommended for 18 . However, it is suitable for children 13 . Any minor (under the age of 18) must accompanied by an adult at all times.
ID: All ticket holders are required to bring photo ID (passport, Identity card and/or British driving licence). You may not be admitted without valid photo ID.
Latecomers / Readmission: Latecomers will not be admitted. Readmittance is not allowed.
Food and Drink: We will be serving delicious food and drinks throughout the evening. Drinks will be themed to the music, food will be a selection of light bites. You will order all your drinks before entering the show.