Les Miserables Tickets
Queen's Theatre, London
Filter performances by ticket quantity
Last few tickets
Limited availability
Available
More Information about Les Miserables Tickets
Cameron Mackintosh's legendary production of Boublil and Schonberg's Les Misérables is now the world's longest running musical, in its record-breaking 33rd West End year. The show is a musical adaptation of Victor Hugo's great humanitarian novel of one man's determined survival in the face of another's vengeful persecution. Set amid the social and political struggles of 19th century France, West End favourite Les Misérables tells the story of former prisoner Jean Valjean, who is pursued for decades by his policeman nemesis, Javert. Their epic cat-and-mouse journey will take them from the French fields to the gritty Parisian sewers, amidst an enthralling story of broken dreams, unrequited love, passion, sacrifice and redemption - a timeless testament to the survival of the human spirit. The international award-winning musical sweeps its audience through an epic tale of passion and destruction, against the backdrop of a nation in the grip of revolution. Having started life as a French-language concept album in 1983, producer Cameron Mackintosh worked in conjunction with the Royal Shakespeare Company to adapt the French musical for a British audience, with the resulting show opening at the Barbican Centre in October 1985. A West End transfer soon followed, along with a Broadway production, and the rest is record-setting history. The dramatic score of Les Misérables includes numbers such as On My Own, One Day More and Do You Hear The People Sing? Its best known song, perhaps, would be I Dreamed A Dream, made famous through numerous cover versions by artists ranging from Katherine Jenkins to Susan Boyle. Now, seen by more than 70 million people worldwide in 45 countries and in 22 languages, this spectacular musical adaptation of Victor Hugo's masterpiece continues to thrill audiences night after night at Queen's Theatre. Join the people's crusade - book for Les Misérables in the West End today.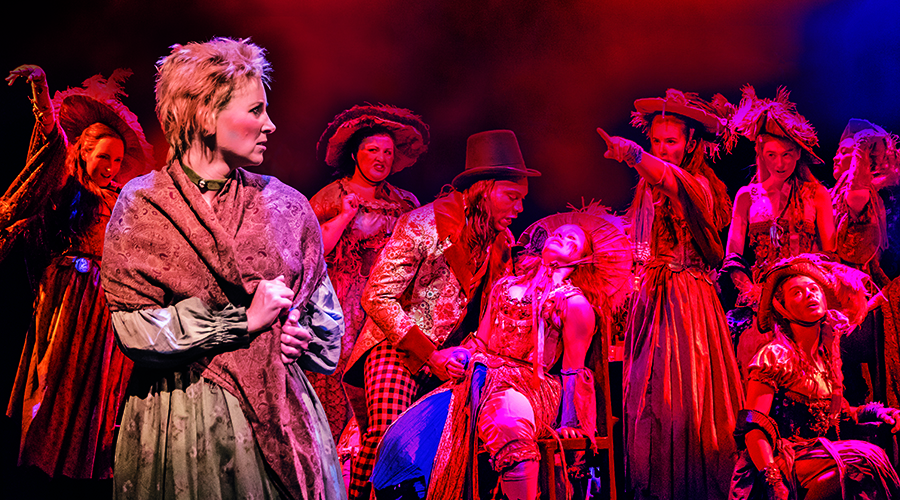 A £1.25 restoration levy (collected on behalf of the theatre) appears as part of the ticket cost.

LES MISERABLES

Booking period: Until Saturday 2 March 2019

Running time: 2 hours 50 minutes with 1 interval

Cast
Jean Valjean: KILLIAN DONNELLY
Javert: HAYDEN TEE
Fantine: CARLEY STENSON
Eponine: KARIS JACK
Marius: PAUL WILKINS
Thenardier: STEVEN MEO
Madame Thenardier: JACQUELINE TATE
Enjolras: HYOIE O'GRADY
Cosette: CHARLOTTE KENNEDY
What people are saying about Les Miserables
Rated

5

out of

5
by
katy2615
from
Absolutely flawless!!! MUST SEE
The quality of acting and singing in this show completely blew me away, we had goosebumps all the way through! Would highly recommend this show to everyone, it was incredible! Will definitely be back soon
Date published: 2017-10-22
Rated

5

out of

5
by
Morriewynn
from
A British Production to be proud of
Never before have I seen a stage production that touched my soul to set it soaring. Powerful; moving; simply wonderful
Date published: 2017-08-17
Rated

5

out of

5
by
Yorkies
from
Best ever musical
We have seen Les Miserables five times - London, Edinburgh, Bradford. My husband said it was not his cup of tea but agreed to go to please me. He was instantly hooked! This is the best musical that we have ever seen, swinging from emotional drama to roll about laughter at the Master of the House. We have seen loads of musicals but have to agree that Les Miserables is the best ever. Nothing surpasses it for storyline, superb acting and singing, and making you want to come back for more......and more......and more. Absolutely wonderful.
Date published: 2017-01-24
Rated

5

out of

5
by
Hoopy
from
Fabulous
Came to see the show 5 th November2016 .thought it was absolutely brilliant,booking again to see the show again .2017. The cast was amazing .the epilogue had every one cheering .booing and laughing.Amazing.
Date published: 2016-12-17
Rated

5

out of

5
by
Alan 1934
from
Second Favourite musical
Have seen this three times and in my opinion is the finest musical with some of the finest tunes ever written. Gripping from beginning to end.
Date published: 2016-11-29
Rated

5

out of

5
by
MWG
from
A Outstanding Musical. Well worth seeing
Went with my wife and daughter and had a lovely day in London and a fantastic show.
Date published: 2015-11-14
Rated

5

out of

5
by
Blewitt
from
My overall favourite musical.
This last visit was the sixth time of seeing the show and it never disappoints. We had seats in the dress circle in row h and had a good view of the stage. The cast was excellent and received a standing ovation which was certainly deserved. I don't think this will be the last time we go as the music is emotive and the story superb, don't miss seeing this.
Date published: 2015-11-08
Rated

5

out of

5
by
Fjellwen
from
Definitely an experience to be repeated
Met my Mum for a long weekend in London, with a trip to the theatre as the highlight. Everything went really smoothly and we had a fantastic time. Les Miserables was great!
Date published: 2015-11-06