Awful Auntie Tickets and Dates
Sorry there are no shows for Awful Auntie right now.
More Information about Awful Auntie
David Walliams' Awful Auntie When Stella sets off to visit London with her parents, Lord and Lady Saxby, she has no idea her life is in danger! Waking up three months later, only her Aunt Alberta can tell Stella what has happened. But not everything Alberta tells her turns out to be true and Stella quickly discovers she's in for the fight of her life against her very own awful Auntie! From the award-winning West End producers of Gangsta Granny comes the world premiere of David Walliams' amazing tale of frights, fights and friendship, featuring a very large owl, a very small ghost and a very awful Auntie! "A triumphant adaption of David Walliams' much loved book!" - What's Good To Do ★★★★★ "A real gem! Exciting, thrilling, heart-warming and memorable - another huge dramatic hit!? - What's On Live ★★★★ "The BSC's Gangsta Granny is truly brilliant, so I'm hugely excited they've now brought Awful Auntie to the stage. It's a terrific show with a hugely talented cast - I loved it and can't wait for you to see it!" - DAVID WALLIAMS
Booking Period:
Various venues from 22 August 2018 - 6 January 2019
Running Time:
To be confirmed
Age Restrictions:
To be confirmed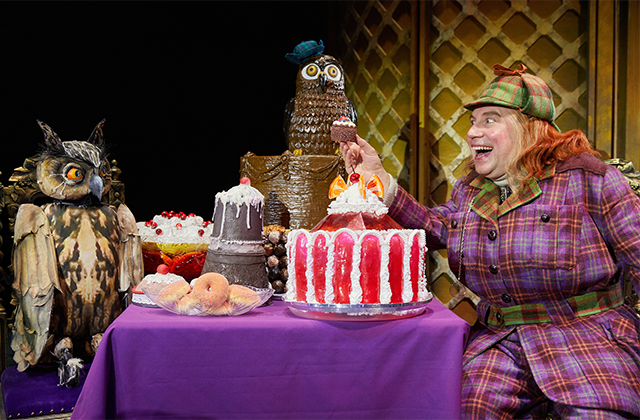 More Information about Awful Auntie
What people are saying about Awful Auntie
Rated

5

out of

5
by
Guesty46
from
Great fun, faithful to the book
I took my 7 year old son to this event on his birthday - he is a big fan of the book and loved the show too. My 4 year old got a little restless but said he enjoyed it. It is faithful to the story of the book about an orphaned heiress at the mercy of her money-grabbing aunt. Dark themes include child poverty and murder but the fast-paced slapstick humour keeps the fun going. The set is wonderfully spooky and the small cast are all good, with the actor playing Aunt Alberta hamming it up magnificently.
Date published: 2019-01-15
Rated

5

out of

5
by
DELsium
from
Great show at Christmas!
I went with my two daughters and husband as a nearly 13 birthday celebration. What a fantastic show. Williams is so creative. A cross between Matilda and The Birds!!
Date published: 2019-01-06
Rated

4

out of

5
by
Some other bloke
from
The kids loved it ....
Although the small person that I went with said that the production wasn't as good as good as the book, he nonetheless reacted to all the dramatic twists and turns and enjoyed the slapstick. For me, he was happy so so was I. As regards the Bloomsbury Theatre the seating leg room in the circle wasnt sufficient and caused discomfort and although having jugs of cold water and cups out at the interval was a genuinely nice touch, I wouldn't want to revisit the theatre because of the legroom issue.
Date published: 2018-12-28
Rated

5

out of

5
by
Jocakelover
from
My kids learned Cockney!
I took my six year olds who thoroughly enjoyed the storytelling. The sparse set meant the kids had to use their imagination to fill in the gaps - v clever. Great acting, a good lesson in Cockney rhyming slang and lots of laughter. A nice family play with something for everyone.
Date published: 2018-12-23
Rated

3

out of

5
by
RS24
from
A bit flat and disappointing
We were all looking forward to this one - fans of the book, and having seen and enjoyed the stage performance of Gangsta Granny last year, were hoping this would be similarly great. Unfortunately it just wasn't...the whole thing was rather flat, nothing seemed to be played for laughs. The writing was reductive and didn't really capture the essence or comedy of the gloriously evil Aunt, and casting Stella as an obviously fully grown woman was quite odd. Overall it wasn't terrible, but it certainly wasn't great either - not a highlight of the pre Christmas period, my kids were both a bit disappointed.
Date published: 2018-12-20
Rated

5

out of

5
by
viviangc
from
Amazing Family Experience
Both adult and children loved the play. Good acting, set and theatre.
Date published: 2018-12-18
Rated

5

out of

5
by
Kwj
from
Marvellous show
I took my 9year old granddaughter to see this show it was brilliant very clever , lovely theatre comfy seats
Date published: 2018-12-16