Circus 1903 Tickets and Dates
Royal Festival Hall, London
More Information about Circus 1903
Experience all the thrills and daredevil entertainment of a turn-of-the-century circus when
Circus 1903
returns to the Southbank Centre this Christmas with new acts for 2019 including the Brazilian Wheel of Death. Sensational puppetry from the award-winning team behind
War Horse
puts elephants back in the ring as never seen before, alongside a huge cast of the most unique, jaw-dropping and dangerous acts from all four corners of the globe. From strong men to contortionists, acrobats to musicians, knife throwers, high wire and much more, CIRCUS 1903 will amaze, captivate, and transport audiences of all ages to the mesmerising Golden Age of circus.
Production Shots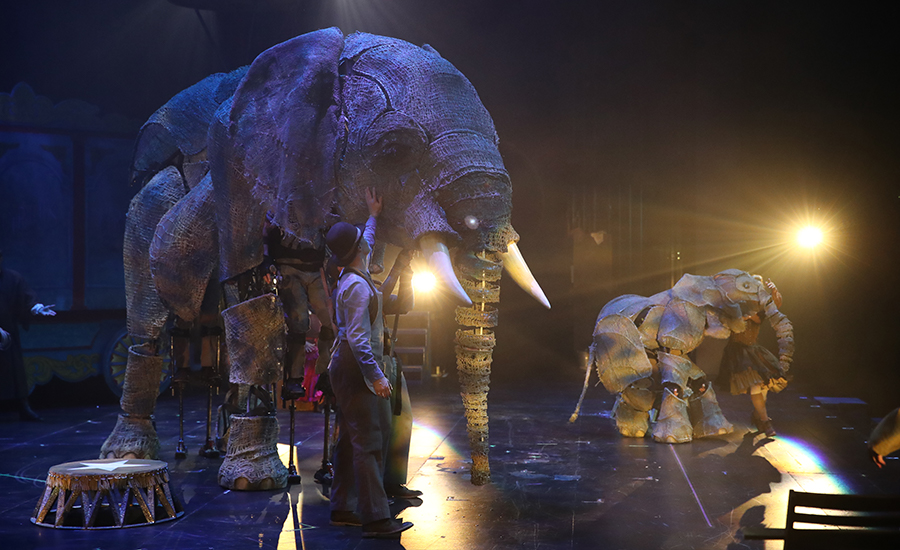 Booking Period:
19 December 2019 - 5 January 2020
Running Time:
2 hours 20 minutes
Age Restrictions:
Ages 3+. Babes in arms are not permitted.
VENUE:
Royal Festival Hall, Southbank Centre, London SE1 8XX
What people are saying about Circus 1903
Rated

5

out of

5
by
Georgie w
from
The whole family loved this show!
We watched Circus 1903 on New Year's Day and what a special way to celebrate! We absolutely loved this show. Our children, all under 7, were transfixed to the many amazing acts, the humour of the Ring Master, and the spectacle of the wonderous elephant puppets! My husband and I were just as thrilled as the kids. There was a great mix of visual wonder, thrills with the knife thrower, acrobats and contortionist and laughter and tears from the amazing Ring Master, who had the perfect balance of humour, spectacle and great emotion he showed towards the kids from the audience who participated, he actually made me cry with the wonderful things he said about the wonder of magic and children. We have attended a number of shows and performances over the years but this was the absolute favourite! Thanks for such a special time!
Date published: 2019-01-02
Rated

5

out of

5
by
taz50
from
absolutely best show we've seen this year
It was a show that had everything for all ages. We were a family of 7 age from 66 to 9 and ALL of us thought it was brilliant.
Date published: 2019-01-01
Rated

5

out of

5
by
Homebud
from
Good family entertainment
Excellent family show. Exciting and enjoyable. Plenty of oohs and ahhs
Date published: 2018-12-31
Rated

5

out of

5
by
Jaybay
from
Excellent circus for all age groups.
Took our 3 year old and he loved it! There is something for everyone, drama, humour, suspense, interaction and all at the fantastic location that is the Royal Festival Hall.
Date published: 2018-12-31
Rated

5

out of

5
by
Abs78
from
We had the best time!!
My family and I were on the edge of our seats and my 6 year old daughter was screaming with excitement. So Entertaining from start to finish we didn't even pnotice the lateness of the hour!
Date published: 2018-12-30
Rated

5

out of

5
by
Diane J
from
Superb and thrilling entertainment!
Booked up in October for the whole family including teenage daughters to see this as our Christmas treat. It was fabulous, breathtaking, beautiful, edge of your seat, wonderous, funny, and so entertaining. Just a really great circus show- would recommend wholeheartedly. Even my slightly 'grumpy old man' hubby was clapping away and came out with a big smile on his face. That's an achievement.
Date published: 2018-12-29
Rated

5

out of

5
by
Grandma Pamela
from
Fantastic
Took our granddaughter 4years old and she was amazed. So was grandpa! Better than the circus in China last year .
Date published: 2018-12-26
Rated

5

out of

5
by
SueK
from
Fun family night out
What fun. Laughs, drama, skill and puppets. Elephantastic...
Date published: 2018-12-24
Rated

1

out of

5
by
SaraSammons83
from
not listed as restricted view but could only see half the show
had log periods of time filling that could not be seen by the people in the gallery as it was don't right near the front of the stage. kids got very board between shows. not worth the money.
Date published: 2018-12-24
Rated

5

out of

5
by
Moneypenny
from
Circus 1903 southbank
Really family entertainment, really good fun even with our children.
Date published: 2018-12-23
Rated

5

out of

5
by
Samanthajb1
from
Super show
This show was amazing! Very entertaining, fun and kept the whole family entertained.
Date published: 2018-12-22
Rated

1

out of

5
by
Maxinegp
from
Deeply disappointing.
The music was so loud we sat with our fingers in our ears and two of our party left with their child, who was in tears. Trapeze artists are promised in the blurb but apart from one woman doing a short aerial performance in a hoop, there were none. The individual performances were certainly the least impressive of any we have ever seen anywhere and the Master of Ceremonies called children up to the stage and then made fools of them. It was distressing for the children and audience alike. The elephant puppets are lovely - but the big one walks on stage and off again - not so interesting!
Date published: 2018-12-22
Rated

5

out of

5
by
Rosieprosecco
from
Jaw dropping
Took my 2 children aged 12 & 14. We loved it. Spent most of the time with my mouth open I awe of the amazing acts. All linked together by a fabulous ringmaster. Amazing value for money
Date published: 2018-12-22
Rated

5

out of

5
by
Lewbur
from
Wonderful family show
Took our grandchildren to see this show as a Christmas treat, and a treat it surely was. The children ages 5 & 7 loved it and although 2 hours + it held their attention throughout, especially the elephant puppetry. The adults enjoyed it too. Some amazing performances by the various artistes all brilliantly held together by the Ring master Willy Whipsenade.
Date published: 2018-12-21
Rated

5

out of

5
by
CamillaL
from
Exactly how the Circus experience should be.
What a show! My expectations were high and they were matched. My kids loved it from beginning to the end. The quality of the performers were superb. A truly wow! moment when the large elephant came on and an even bigger ahhh!...moment when the baby elephant appeared. I don't have a single bad word to say about it. I was on the edge of my seat through most of it or laughing so loud I nearly burst. Wish I could go and see it again tomorrow.
Date published: 2018-12-21
Rated

4

out of

5
by
JackyS
from
Good fun for a pre Christmas show
Great old fashioned circus with acts from all over the world. Young talented acrobats and acts that mad you laugh, hold your breath and just enjoy a good night out
Date published: 2018-12-21