Doug Stanhope Tickets and Dates
More Information about Doug Stanhope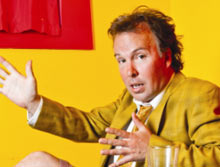 Check out Doug Stanhope's brand new DVD
HERE
Brutal, shambolic, savage and unpredictable, American comedian Doug Stanhope has been on the road for 20 years.
Stanhope is the stuff of legend - an unsettling, uninhibited, incendiary no-holds-barred comedian who displays scant respect for any personal, moral, social or sexual bounderies.
He is also the funniest comic you'll ever see, a vicious, uncompromising, messy genius.
"Doug Stanhope might be the most important stand-up working today" Ricky Gervais
"A visionary douchebag" (The Times)
"Ask anyone whose opinion matters, and they'll tell you Doug Stanhope is one of the top ten stand-ups in the world today"
Chortle
What people are saying about Doug Stanhope