Pressure Tickets and Dates
Sorry there are no shows for Pressure right now.
More Information about Pressure
D-Day, June 1944. The Allied forces led by General Eisenhower are poised to launch. 350,000 lives are at stake and the decision of whether or not to attack comes down to the most important weather forecast of all time. Olivier Award-winner
David Haig
plays Scottish meteorologist, Group Captain James Stagg, in this true story and critical smash hit, from Chichester Festival Theatre and Royal Lyceum Theatre Edinburgh.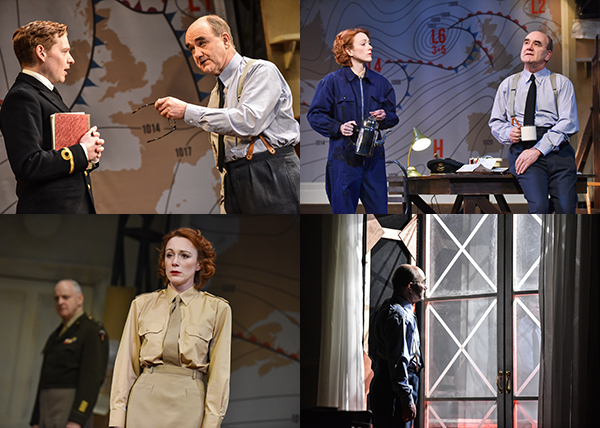 More Information about Pressure
What people are saying about Pressure
Rated

5

out of

5
by
CraigHy
from
Great Play!
Went along to the final Matinee of Pressure a couple of Saturday's ago. We were pleasantly surprised at the wit in the show in what was a very important story. Really got into the story being told and will definitely go and see again should the show go back on tour, there was some great acting on display. Well done all involved!
Date published: 2018-09-12
Rated

4

out of

5
by
John the Reviewer
from
Ambassadors vs Chichester Festival Theatre
I had seen this production at the CFT some four years ago - the play was equally enthralling at both locations. However I thought there was more stage available at CFT which I preferred. David was as always outstanding at each viewing and deserved the audience plaudits. In my view the 'whisky' scenes added nothing to the story! Eisenhower was rather typical of those who reach the top - they often drop those who had helped him to his elated position
Date published: 2018-09-03
Rated

5

out of

5
by
Elsie May
from
Outstanding play - interesting and insightful
Third time I've seen this play - found something different and interesting each time. The writing is superb and brings a little known aspect of such a significant historical event vividly to life. The personal touches and attention to detail make this an exceptional piece of theatre.
Date published: 2018-09-01
Rated

4

out of

5
by
Claire59
from
Great play!
I was recommended this play by a friend in their mid 70s who said that despite knowing the story of D-Day she still found it edge of the seat stuff! I was amazed that a weather forecast could keep one fascinated for 2 hrs 30 mins (that includes the interval). David Haig was brilliant and totally believable as the British scientist /weather forecaster. The dilemma faced by General Eisenhower was clear for all to see and it made one want to read up about it afterwards. The tension was palpable in the second half and the acting of the three main characters Stagg, Esinhower and Esinhower's driver a British Woman Lieutenant sensitive, commanding and highly plausible. It made one realise how lucky we are to have such high tech meteorological instruments these days and what immense "Pressure" to get it right fell on those in that Forecast room in those crucial days in June 1944. My friend and I felt it was well worth seeing.
Date published: 2018-08-23
Rated

4

out of

5
by
Flatcoat12
from
Enjoyable and interesting subject for a play
We enjoyed the play - it was well acted and thought provoking
Date published: 2018-08-19
Rated

4

out of

5
by
MegaM
from
A welcome change from wall to wall musicals.
In this time of political turmoil it was very timely to see a proper, well written play that addresses issues of morality, conscience and honour. Although 'Pressure ' tackles serious issues it has moments of high humour and personal conflict. It even makes weather charts exciting ! The acting is excellent and the mix of personalities intriguing- gruff Scottish weatherman pitted against flash American. My favourite moment was when the weather offstage showed that gruff hero was right after all . The title of the play reflects its power- pressure of time, of responsibility and of the upper atmosphere! It just goes to show that even a play about a weather forecast can be riveting if it is well written and acted enough.
Date published: 2018-07-24
Rated

5

out of

5
by
Andy jaha
from
Terrific piece of theatre and a history lesson all rolled in to one
I went with my wife and we enjoyed the explanation of the D day situation and the intense position that the weather forecasters were in - would take the rest of the family as was excellent
Date published: 2018-06-30
Rated

5

out of

5
by
cableguy
from
How Interesting Can a Weather Forecast Be?
Well actually, Fascinating. I only went to see this play because I quite like David Haig and am interested in history. Wow I am glad I did. Haig delivered a fascinating story of the most critical weather forecast of all time filled with tension that even though I knew the result had me on the edge of my seat. Thoroughly recommend this.
Date published: 2018-06-18